VietNamNet Bridge – The official documents of the Nguyen Dynasty serve as an important legal basis for affirming Vietnam's sovereignty over its sea and islands, a Vietnamese professor has said.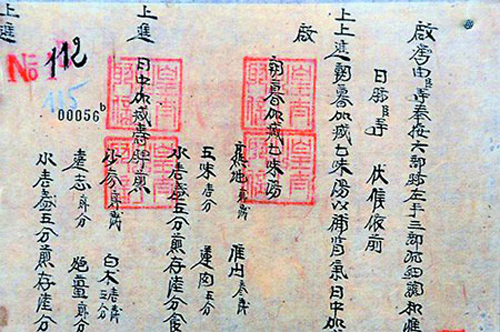 Many official state documents bearing the seals of kings still bear legal weight today, according to Prof. Dr. Nguyen Quang Ngoc, former director of the Institute of Vietnamese Studies and Development Sciences under the Hanoi National University.
The Nguyen Dynasty documents, including royal edicts and decrees, reports to the King, and credentials, are extremely valuable historical materials reflecting the political thoughts, guidelines and polices of the Vietnamese State in its internal and external relations.
"They are an invaluable asset for not only Vietnam but also the rest of the globe," he stressed, adding this was the most important foundation for the UN Educational, Scientific and Cultural Organisation (UNESCO) to official recognise the documents as documentary heritage of the Asia-Pacific at a meeting of the Regional Committee for the Memory of the World Programme in Guangzhou, China on May 14.
He expressed his belief that the documents will become recognised as documentary heritage of the world in the near future.
Ngoc said that among the documents, 18 were reports to the King providing detailed information on the Nguyen Dynasty's exercise of sovereignty over Hoang Sa (Paracel) and Truong Sa (Spratly) archipelagoes.
The means in which people were sent to Hoang Sa and what they did there are detailed in the documents, which also feature decisions made by the King to honour those who made great achievements to the development of the islands and punish those who failed to fulfill their tasks.
"These are among the only documents about the East Sea area," the professor affirmed, adding they assert the undeniable sovereignty of Vietnam over its sea and islands.
The documents also served as a material for Nguyen Dynasty historians to write the Dai Nam Thap Luc (Veritable Records of Dai Nam) collection, which also proved Vietnam's sovereignty over Hoang Sa and Truong Sa archipelagoes throughout its history.
According to Ngoc, in the context of China's illegal placement of its oil rig in Vietnam's exclusive economic zone and continental shelf, the recognition, by UNESCO, in China itself is of great significance. It made the Nguyen Dynasty documents an important legal foundation for Vietnam's struggle for sovereignty over an area where generations of Vietnamese people have laid down their lives to protect.
UNESCO has so far recognised three items of the Nguyen Dynasty as documentary heritage. They are the wooden printing blocks kept at the National Archives Centre IV in the central city of Da Nang, the Buddhism wooden printing blocks at Vinh Nghiem Pagoda in Ho Chi Minh City and 82 steles honouring doctors at the Temple of Literature in Hanoi.
VNA/VNN