Professor Vladimir Kolotov, a Vietnam Studies scholar, says China's illegal deployment of its drilling rig Haiyang Shiyou-981 in Vietnam's waters is just a first step in a long-term strategy to realise its East Sea expansion ambition.
Prof. Kolotov, head of the Oriental History Faculty of the St. Petersburg State University, gives insight into the nature of the Chinese ambition in an interview granted to a Moscow-based VOV correspondent.
Following are excerpts from the interview.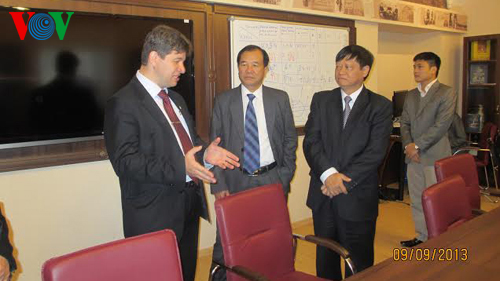 Professor Kolotov (first from left) in a workshop on Vietnam  in Moscow in 2013.
As a Vietnam Studies scholar, who has conducted numerous research projects on sea and islands of Vietnam and the region, how do you view China's recent move?
It is a well-prepared plan, part of China's long-term strategy to take control of the Hoang Sa (Paracel), Truong Sa (Spratly) and then the whole East Sea.
This move is a violation of international law stemming from the establishment of a unipolar world through neo-colonial wars as seen in the former Yugoslavia, Afghanistan, Iraq, Syria, and Libya.
China is the world's second largest economy, and to extend its influence it is carrying out a territorial expansion scheme, first and foremost to the south.
Vietnam has an important strategic position. Without controlling Vietnam, China will find it difficult to control Southeast Asia and ASEAN nations. I may say Vietnam is first falling victim to China's expansion plan.
A Pentagon map shows China would control Southeast Asia first and then Northeast Asia. It aims to realise its so-called nine-dash line in the first phase and expand domination to the whole of Southeast Asia, even Guam island in the Pacific Ocean.    
Undoubtedly Vietnam and other countries cannot accept the rule, and China will be isolated eventually. Countries consider China's action a serious threat to their security and they will unite and seek close allies to counterbalance the risk.
The US is a top choice, and the US's influence in the region will grow considerably - a factor that fuel regional tension. It will make the situation more complicated.
What should Vietnam do to make China withdraw its drilling rig from its waters and stop similar actions in the future?
Both Vietnam and China are socialist nations, and any conflict will make them weaker, enabling hostile forces to emerge and threaten their political regime and economic potential. So they should work together to settle differences.  
Vietnam and China have experienced many upheavals. The latter provided support for the former during the war of resistance against French colonialism. It was also the first country to recognise Vietnam's sovereign state in January 1950.
I think Vietnam and China should learn from the past experiences to overcome the current challenge. Influential strategists will know what and how to do to ensure security and safety of their regime and the region as well.
In a recent interview granted to the Associated Press and Reuters, PM Nguyen Tan Dung stated that Vietnam will not barter its independence and sovereignty for unrealistic and dependent peace and friendship. What do you think about his statement?
The answer truly reflects Vietnam's tradition. I think no Vietnamese politicians can accept China's East Sea claim. Late President Ho Chi Minh said "Nothing is precious than independence and freedom". Late General Vo Nguyen Giap, after the 1954 Dien Bien Phu victory over French colonialism, said, "you lost because you did not understand the Vietnamese history." Back to the 13th century, Emperor Tran Hung Dao said, "Much money cannot purchase the enemy's head".
Vietnam had to pay a high price for its independence and freedom, and this is not for speculation. History shows Vietnam defeated many enemies no matter how big they were. This is a big lesson that any aggressors should learn before implementing ill-intentioned scheme against Vietnam.
Regarding Russian commentator Dmitri Kosyrev's article published on RIA Novosti that has caused indignation among the Vietnamese public. What do you think about it?
I have read this article. Today I brought it to the class for analysis and my students found several incorrect comments. Regrettably a reputable press agency like RIA-Novosti published such a commentary.
But I think this is Kosyrev's own opinion that does not represent the official stance of Russia. He is an Oriental Study scholar, specialising in the Chinese history. He might have used unreliable reference materials to write the story that contains incorrect information about Vietnam.
VOV/VNN