VietNamNet Bridge - China manufactured the HD-981 rig in 2011 at a cost of almost $1 billion. Why is it now deploying this rig in Lot 143 of Vietnam's waters? The question was discussed by experts and scholars at a meeting of the Union of Scientific and Technological Associations in Ho Chi Minh City on Saturday.
At the meeting, the union released a statement against China's anchoring of the HD-981 oil rig and positioning its vessels in Vietnam's exclusive economic zone and continental shelf.
When will China withdraw the rig?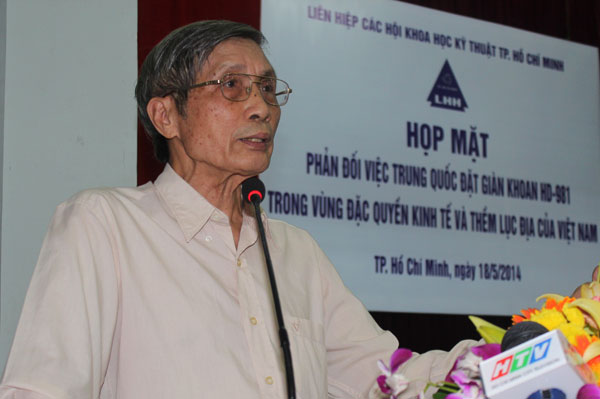 Admiral Le Ke Lam.
Admiral Le Ke Lam, Chairman of the HCM City Marine Economics, Scientific and Technological Association, said China manufactured HD-981 in 2011 and has not used it until now. It is clearly taking advantage of current distractions  in the world situation to anchor the rig in Vietnam's East Sea.
"China blatantly set the rig in Vietnam's waters without Vietnam's permission. This action forced Vietnam and the world to raise strong objections," Lam said.
Admiral Lam also said that perhaps China will not withdraw the rig out of Vietnam's water before August 15, as it has announced it would. If China does withdraw it before August 15, it would be because of Vietnam's resolute struggle and the strong opposition of the world. It could also happen if a huge tropical storm developed in the East Sea.
"It is also highly possible that China will not withdraw its rig after August 15 because with the rig fixed in that position, it will strengthen China's illegal occupation of Hoang Sa (Paracel) Islands and give force to its U-shaped line in the East Sea. If China can get away with anchoring its rig here, it will be able to set rigs in other places," Lam said.
A worse possibility, according to Lam, is that China deliberately hopes to "teach Vietnam a lesson" as the Chinese government said because China has kept sending aircraft and war ships to this area. It does so with the desire that Vietnam would lose patience and use force against China, giving China the excuse it needs to attack Vietnam.
During this time, Vietnam should not lose vigilance and should stick to peaceful measures and call for the support of other countries in the world in the struggle against China. Vietnam should also bring China to the international court.
No compromise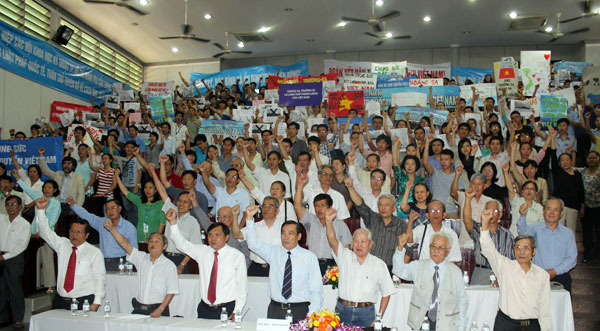 The Union of Scientific and Technological Associations protests China's drilling rig in Vietnam's waters.

Chairman of the HCM City Construction Science and Technology Association, Mr. Huynh Van Hoang, affirmed that China's actions are a deliberate provocation, carefully calculated and directly threatening the peace and stability of Vietnam and maritime security in the East Sea.
"We have used utmost restraint, have been very patient to show our good will, and have employed diplomatic channels to ask China to withdraw its rig. But China has not only refused to meet Vietnam's demands, but even slandered Vietnam. We do not want conflict, but our entire people firmly defend the sacred sovereignty of the country," said Hoang.
Prof. Chu Pham Ngoc Son, Vice President of the HCM City Union of Scientific and Technological Associations, said the union agreed with the behavior of the Party and the State: Vietnam has clearly expressed the wish to solve the case under the international law, in the spirit of peace and friendship, but will not compromise and will defend its territorial integrity and national sovereignty by all means.
"I hope that the Chinese people and other peoples have sympathy with the Vietnamese people and persuade the authorities to act for the purpose of peace, prosperity and happiness," Son said.
At the meeting, the Union issued a statement protesting China's acts in Vietnam's waters and calling on the Chinese Sciences and Technology Association and the ASEAN Engineers' Federation, Chinese intellectuals and other countries to raise their voices to defend the rule of international law in the East Sea.
Lam Ta - Ngoc Trinh