VietNamNet Bridge – Senior Lieutenant General Nguyen Van Rinh: "If China continues its aggressive actions, Vietnam has enough strength and measures to cope with it."
China's illegal deployment of its drilling rig Ocean-981 in Vietnam's exclusive economic zone has captured the attention of the international arena.
Senior Lieutenant General Nguyen Van Rinh, Former Deputy Defence Minister and Chairman of the Vietnam Association for Victims of Agent Orange/Dioxin (VAVA) has emphasized that the location China positioned its drilling rig is within 122 nautical miles of Vietnam's exclusive economic zone and clearly falls under the management of Hoang Sa island district's administration in central Dannang City.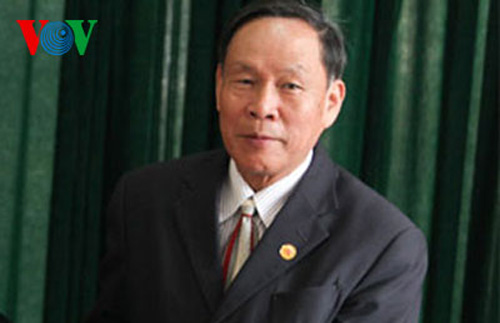 Senior Lieutenant General Nguyen Van Rinh, Former Deputy Defence Minister 
China's scheme to monopolize the East Sea
Senior Lieut. Gen Nguyen Van Rinh stressed that Vietnam has sufficient evidence to prove that the waters are under its sovereignty. China's illegal deployment of its oil drilling rig along with escort ships and planes is a serious violation of Vietnam's sovereign rights and jurisdiction stipulated in the 1982 United Nations Convention on the Law of the Sea (UNCLOS) and the Declaration on the Conduct of Parties in the East Sea (DOC).
This move also violates the relevant agreements reached by the two countries' leaders as well as fundamental principles regarding the settlement of maritime issues through peaceful means.
"China did not comply with signed commitments and has seriously violated Vietnam's sovereignty. This is not the first time China has acted aggressively against Vietnam and is the result of an intentional and deliberate conspiracy. This time, they have capitalized on opportunities of global and regional fluctuations to put the rig in the exclusive economic zone of Vietnam. This action is part of China's scheme "to monopolize" the East Sea. China's action is threatening peace and stability at sea and destabilizing the region." Rinh analysed.
Lieu.Gen. Rinh said that China's installment of its drilling rig is wrong but the use of numerous military ships and aircraft is an action of aggression threatening Vietnam's law enforcement forces.
This action is inconsistent with the regulations of the UNCLOS-1982 and the international community's desire to solve the disputes by peaceful means. In the face of China's unruly actions, Vietnamese law enforcement force's defense is a legitimate response.
Vietnam has enough strength and measures to cope with
"If China continues aggressive actions and does not stop their wrongdoing, we have enough strength and measures to respond, aiming to protect our territorial waters, airspace and continental shelf" Senior Lieu. Gens Rinh emphasized.
He underlined the need to mobilize a combined strength in terms of economics, diplomacy and defense to respond to China.
"Vietnam can afford to mobilize a combined strength in which the biggest strength is the unanimity of more than 90 million people inside and outside the country. Solidarity is a fine tradition of the Vietnamese people through thousands of generations. Each time when the country is in danger, that solidarity is even greater and the people are ready to sacrifice their life for the nation. At the same time, Vietnam has received support from the international community and ASEAN as justice belongs to us. As a UN member, we can bring China's wrong acts to the international tribunal." Rinh noted.
He also said that during the ASEAN Foreign Ministers Meeting, ASEAN Ministers' agreement for the first time on issuing a declaration on the East Sea since 1995 shows that ASEAN countries are very interested in this problem. In particular, FMs expressed deep concern about the ongoing incidents in the East Sea which have increased tensions in the region.
They also laid importance on the peaceful settlement of disputes, not to use force or threat to use force. This shows solidarity and unity of ASEAN in terms of the East Sea issue.
As VAVA Chairman, senior Lieu. Gen. Nguyen Van Rinh said his association does not want to have more victims of another war and it strongly opposes China's actions, demanding it immediately pull its drilling rig and vessels out of Vietnam's exclusive economic zone.
The VAVA also called on governments, peace organizations and non-governmental organizations around the world to speak out to prevent China's infringement of Vietnam's sovereignty over the waters so as to maintain peace and stability in the East Sea without hindering international maritime activities.
"To prevent China's escalation, it is imperative to speed up communication to help people worldwide especially Chinese people get a better understanding about the value of peace, China's wrongdoing and Vietnam's effort to protect justice. Vietnam wants to settle all issues by peaceful means. In addition, the country also needs to gather the strength of coast guard to safeguard its sea and islands as well as national sovereignty," Rinh concluded.
Source: VOV