Indian defence delegation visits Vietnam
Sen. Lt. Gen. Vo Van Tuan, Vice Chief of the General Staff of the Vietnam People's Army, received a delegation from the National Defence Academy of India in Hanoi on May 12.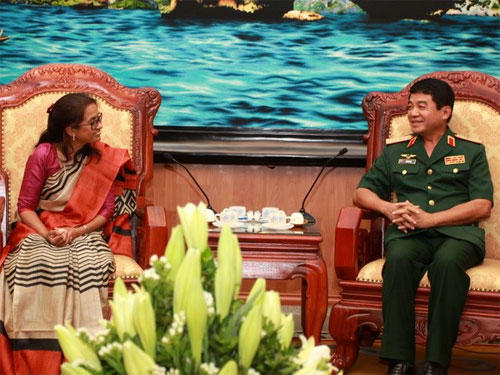 Photo: VNA
Tuan affirmed the people and army of Vietnam always attach importance to developing solidarity and friendship with the Indian people and army.
He informed the Indian guests on China's illegal placement of a drilling rig in Vietnam's continental shelf and exclusive economic zone, which is protected under the 1982 United Nations Convention on the Law of the Sea (UNCLOS).
He emphasized the country's wish to solve the issue through peaceful measures on the basis of international law, equality and mutual respect for the benefit of the two peoples and for regional and global peace and stability.
Indian delegation chief Major General Dr. Kheya Bhattacharya voiced protest against China's acts and support for Vietnam to settle the dispute in a peaceful manner.
He said he expects the defence ministries of India and Vietnam will continue to work towards deeper and more effective cooperation between their defence academies.
Hanoi hopes for multi-sided cooperation with Toro
Hanoi will assist Toro investors to the city, Chairman of the Hanoi municipal People's Committee Nguyen The Thao has told King Rukirabasaija Oyo Nyimba Iguru Rukidi of Toro.              
At the May 12 meeting in Hanoi, Thao briefed the King of the capital's development, including the effective use of foreign direct investment, as well as efforts in improving investment climate and policies towards foreign investors.
In addition to promoting cooperation and cultural exchanges, Hanoi has set up trade links with dozens of nations and territories around the world, Thao said.
The King of Toro said he is impressed that a large population in Vietnam, and Hanoi, in particular, engage in agriculture, which is of his country's strength.
He said he hopes Toro and Hanoi in the coming time will establish twin relations along cultural and economic cooperation and trade ties.
Vietnam, Laos, Cambodia strengthen friendship
The Vietnam National Assembly always supports and works to promote Vietnam's friendship with Laos and Cambodia, especially the publicity of its solidarity and comprehensive cooperation with the two countries.
Vice NA Chairman Huynh Ngoc Son made the statement at his meeting in Hanoi on May 12 with delegations of the Friendship Union of Laos-Vietnam Organisations and the Friendship Union of Cambodia and Vietnam.
The Lao delegation is led by Major General Phouvong Vongphom, Acting Director of the Defence Ministry's Logistics Department, while the Cambodia delegation is headed by General Chao Phally, Deputy Minister of State for the Defence Ministry and Vice Chairman of the Cambodia-Vietnam Friendship Association.
Son said Vietnam recognised and appreciated the support and coordination of Lao and Cambodian people to the Dien Bien Phu Victory.
The guests suggested the three countries continue promoting their tradition and maintaining the friendship, contributing to stability, security and people in the region and the world.
Czech Minister of Industry and Trade welcomed in Hanoi
Deputy Defence Minister Sen. Lt. Gen. Truong Quang Khanh on May 12 welcomed Czech Minister of Industry and Trade Jan Mladek, who is in Vietnam to attend the fourth meeting of the two countries' inter-governmental committee.
At the Hanoi meeting, Khanh praised the cooperation between Vietnam and the Czech Republic, especially in military technology, suggesting both sides further boost human resources training in the field.
Jan Mladek expressed his hope to continue intensifying his country's cooperation with Vietnam.
He also conveyed the Czech Defence Minister's invitation to visit his country to Defence Minister General Phung Quang Thanh.
Japan, UK call for de-escalation of East Sea tensions
Japan expressed support yesterday for ASEAN leaders' calls for restraint and a de-escalation of tensions in the East Sea following Beijing's commencement of oil drilling in waters off Viet Nam's Hoang Sa (Paracel) Archipelago.
"We hope that countries concerned will refrain from taking unilateral actions that will heighten the tensions, and act calmly in accordance with relevant international law," Chief Cabinet Secretary Yoshihide Suga said at a press conference.
His comments came after the leaders of the 10 Association of Southeast Asian Nations expressed concern over China's attacks on Vietnamese vessels near the Hoang Sa Archipelago.
The leaders urged all parties to exercise self-restraint and resolve maritime and territorial disputes by peaceful means without resorting to threats or use of force, as they adopted the Nay Pyi Taw Declaration at the end of their summit in the Myanmar capital.
Suga, the government's top spokesman, said Japan is "deeply concerned" about the heightened regional tension due to "China's unilateral drilling activity".
On May 10, British Foreign Office Minister Hugo Swire said on an official website that the incident has led to increased tensions in the South China Sea.
"The UK supports the EU statement issued on May 8, and has raised the issue with the Chinese government at the ministerial level. We urge all parties to exercise restraint and seek to de-escalate the situation," he said.
The statement by the EU said that it was concerned about the incidents involving China and Viet Nam relating to the movements of the Chinese oil rig HD981.
"In particular, the EU is concerned that unilateral actions could affect the security environment in the region, as evidenced by reports about the recent collision of Vietnamese and Chinese vessels," it said.
"We urge all parties concerned to seek peaceful and cooperative solutions in accordance with international law, in particular the UN Convention on the Law of the Sea, and to continue ensuring safety and freedom of navigation," it said.
"We also call on the parties to undertake de-escalating measures and refrain from any unilateral action which would be detrimental to peace and stability in the region," it said, adding that the EU would follow developments closely. — kyodo
Marine forces pledge continued resistance
Chinese maritime surveillance ships, military vessels and fighter jets yesterday continued to harass Vietnamese forces trying to prevent an illegally-installed oil rig from drilling on Viet Nam's continental shelf.
The Viet Nam Coast Guard reported that to protect the US$1 billion Haiyang Shiyou 981, Chinese vessels continuously fired water cannons at Vietnamese ships yesterday morning.
At the same time, Chinese missile frigate 534 and Chinese helicopter B-7112 entered Vietnamese sea and air territory, the coast guard said.
According to a report by the Tuoi Tre newspaper (Youth), after being attacked by 15 Chinese maritime surveillance ships with water cannons, a Vietnamese fisheries surveillance ship used its own water cannon in defence.
Two reporters from the newspaper, who were on the Vietnamese ship, said that the counter-attack lasted an hour. They also reported that many of the Chinese ships intentionally rammed Vietnamese ships.
The newspaper quoted the Vietnamese vessel's captain as saying that the Vietnamese fisheries surveillance and coast-guard forces would make no concession to the Chinese and would appropriately respond to any violations of Viet Nam's sovereignty.
Danang meeting protests against China's illegal actions
Danang's Union of Friendship Organisations, Association of Historical Sciences, and Fisheries Association held a meeting on May 12, opposing China's illegal deployment of its drilling rig in Vietnam's territorial waters.
Representing the three organisations, Bui Van Tieng, president of the Danang Municipal Association of Historical Sciences, vehemently condemned China's illegal actions and demanded China unconditionally remove its drilling rig Ocean-981 and withdraw escort vessels and aircraft from Vietnam's waters.
He also voiced support for Vietnamese Prime Minister Nguyen Tan Dung's speech at the recent 24th ASEAN Summit in Myanmar.
The meeting adopted a statement, rebuking China's illegal deployment of its oil rig within Vietnam's exclusive economic zone and continental shelf which is a serious violation of Vietnam's sovereign right and jurisdiction.
Huynh Duc Truong, President of the municipal Union of Friendship Organisations, said, "We totally support the Vietnamese government's effort to protect national sovereignty through peaceful means and persistently embark on negotiations in accordance with international law."
"We demand China immediately stop its sovereign violation, withdraw its rig Ocean-981 and escort vessels, and fully observe international law," he stressed.
Former vice president decries China's East Sea violations
Former Vice President of Vietnam Nguyen Thi Binh has stressed that China's recent installation of its giant drilling rig Ocean-981 in Vietnam's territorial waters is a wrongful act that should be condemned publicly.
In an exclusive interview granted to VOV online, Binh, who is currently President of the Vietnam Peace and Development Foundation, said it is very serious that China has installed its oil rig deep within Vietnam's exclusive economic zone and continental shelf.
"This is an intentional move by China and. Vietnam cannot stand with folded arms and do nothing, because national sovereignty is sacred to Vietnam.
"We have protested and will continue to do so until China removes its oil rig from Vietnam's territorial waters."
Learning about China's provocative acts in the East Sea, Binh said she felt a sudden anger at China's deployment of vessels and aircraft to intimidate Vietnamese boats.
She said Vietnam exercised admirable self-restraint in dealing with the case, but China paid no heed to Vietnam's goodwill, continuing its provocative acts.
"We have to keep a close watch and strongly condemn these actions," said Binh.
 She added that Vietnam was ravaged by wars and Vietnamese people are aware of the true value of peace. "We want to live in peace and stability to develop the nation. It is obvious that China has not responded to our goodwill."
According to the former Vice President, Vietnam has sufficient evidence to assert its sovereignty over the Hoang Sa (Paracel) archipelago in the East Sea.
Defying the naked truth, China introduced a nine-dash line aiming to take over almost all the oil rich East Sea. However, the nine-dash line has been rejected by the world for its illegality.
 Many governments and foreign organisations have expressed concern over China's actions and demanded justice for Vietnam.
Binh recalled massive international support for Vietnam's just cause during the two wars of resistance in the 20th century, and suggested Vietnam should garner additional international support in this case.
 "Like Vietnamese people, Chinese people cherish peace, and if they understand the truth they will never agree with their government's action.
"I believe Chinese people will be aware of their legitimate interests in the long run, and together with international friends we will help them understand the truth," she concluded.
On May 11, the Vietnam Peace and Development Foundation released a statement, strongly criticising China's deployment of the drilling rig Ocean-981 in Vietnam's territorial waters.
It called upon people cherishing peace and justice in the world to raise their voice and ask China to respect international law and Vietnam's lawful sovereignty, and put an end to unilateral actions threatening peace, stability and security in the region.
New leadership of Bac Kan, Hai Phong approved
PM Nguyen Tan Dung has approved the election of the new Chairman of the northern Bac Kan Province People's Committee and the new Vice Chairman of the northern Hai Phong City People's Committee in 2011-2016.
Mr. Ly Thai Hai was elected Chairman of the Bac Kan province People's Committee. Mr. Hai used to work as  Vice Chairman.
Mr. Nguyen Xuan Binh was assigned as Vice Chairman of the Hai Phong city People's Committee.
National new rural area target program's steering committee strengthened
Deputy PM Vu Van Ninh has signed a decision to strengthen the Central Steering Committee (CSC) for the national target program on building new rural areas in the 2010-2020 period.
Accordingly, the committee will be supplemented with representatives from the Party Central Committee's Economic Commission, the Viet Nam General Confederation of Labor, the Viet Nam Chamber of Commerce and Industry, the Central Commission for Emulation and Commendation, Ministries of Science and Technology and National Defense.
The CSC, established in accordance with Decision 1013/QD-TTg issued on July 1, 2010, is in charge of developing annual and five-year plans on targets, tasks, solutions and budget to realize the program and report them to Prime Minister Nguyen Tan Dung.
It also directs relevant ministries and agencies to build, improve and implement policies on building new style rural areas while monitoring the ministries, sectors, the People's Committees of centrally-run cities and provinces in building projects to realize the program.
In addition, the CSC helps coordinate ministries and governmental agencies with the agencies of the Party, the Viet Nam Fatherland Front and mass organizations, in order to mobilize the whole political system to realize tasks related to the work, while calling for support from local and international organizations and individuals to realize the program.
VNN/VOV/VNS/VNA