Seminar on Vietnam's participation in UN peacekeeping activities
The Ministry of Foreign Affairs on April 25 hosted a consultation workshop on the National Assembly (NA) draft resolution on Vietnam's involvement in UN peacekeeping activities.
Speaking at the seminar, Deputy Foreign Minister Ha Kim Ngoc highlighted Vietnam's participation in UN peacekeeping operations as an important decision of the Vietnamese Party, Government and State which demonstrates the country's unswerving policy of supporting and safeguarding peace in the region and the world as a responsible member of the international community.
Vietnam's participation aims to implement the external policy of independence, self-reliance, peace, cooperation and development, multilateralism and diversification of relations and the Party and politburo policy on international integration to contribute to elevating Vietnam's position and voice in solving international issues.
Former Deputy Prime Minister Vu Khoan, Deputy Defence Minister Nguyen Chi Vinh , Deputy Head of the Party Central Committee's External  Relations Commission Tran Dac Loi and many delegates made practical contributions to the important content of the draft resolution such as the purpose, principles and criteria for participating in the UN peacekeeping operations, duties, responsibilities and rights of participating organizations and individuals, mechanism and the authority to make decisions.
Deputy FM Ha Kim Ngoc said the workshop reached a consensus on a number of important contents in the draft resolution and confirmed that opinions will be considered and adjusted for early approval  thus reinforcing the legal framework for Vietnam to participate in UN peacekeeping operations.
Deputy PM welcomes Chinese guest
Deputy Prime Minister and Foreign Minister Pham Binh Minh hosted a reception in Ha Noi yesterday (April 25) for Qiu He, visiting Vice Secretary of the Party Committee of China's Yunnan province.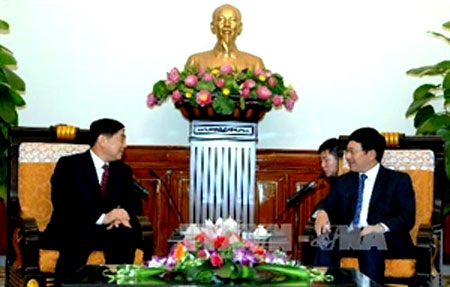 Deputy Prime Minister Pham Binh Minh receives Vice Secretary of the Party Committee of China's Yunnan province Qiu He (Photo: VNA)
Minh spoke highly of the positive development in relations between Vietnamese ministries and localities and Yunnan province, affirming that the Vietnamese Party and Government always encouraged strengthening bilateral ties.
He asked Yunnan authorities to work more closely with the Vietnamese side to organise the fifth meeting of a joint working group between the province and four Vietnamese border localities in July in the northern mountainous province of Ha Giang.
German delegates visit GIZ development projects
A delegation of German parliamentarians yesterday (April 25) inspected projects aided by the country's Development Cooperation organisation (GIZ) in the Mekong Delta province of Soc Trang.
The delegates from the German Parliamentary Committee on Economic Cooperation and Development visited Au Tho B hamlet, where a project on planting and protecting forests is being carried out.
Thach Soal, head of the forest management team, told them that forests had developed well since the project was launched in 2009 and about 300 local households had benefited from more responsible use of natural resources.
In Lai Hoa commune, the guests inspected a project supporting eroded breakwaters by using bamboo T-fences to cover their base.
Vietnamese Finance Minister visits Japan
Finance Minister Dinh Tien Dung, currently leading a delegation on a visit to Japan, attended a conference on promoting Japanese investment in Viet Nam's stock market yesterday, April 25.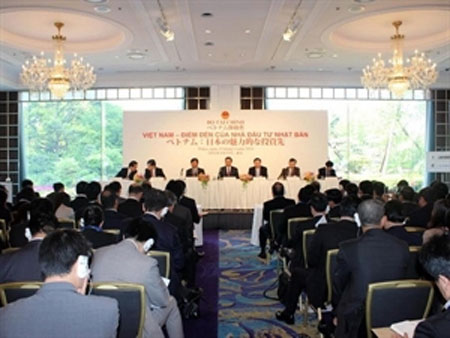 Conference "Vietnam-a destination for foreign investors" (Source: VNA)
The conference, which attracted nearly 200 Japanese and Vietnamese enterprises and investors, aimed to concretise the strategic partnership between the two countries as stated in the Viet Nam-Japan joint statement issued in March and further Viet Nam's goal of equitising State-owned enterprises.
The event also offered an opportunity for Viet Nam to introduce its investment attraction policies in the stock market and help businesses find new foreign partners.
Vietnam chairs workshop on South Africa's election
The Vietnamese Embassy in South Africa, which holds the Chair of the ASEAN Pretoria Committee (APC), held a conference themed "2014 General Election in South Africa and the country's post-election situation in sequential years", in the country's capital on April 24.
Participants shared opinions on the preparations of South Africa's political parties before the election, which is slated for May 7.
Prof. Roland Henwood, a lecturer from the University of Pretoria, along with many other scholars in South Africa, predicted that the ruling African National Congress (ANC) will win the upcoming election and play a crucial role in raising the country's voice in the continent and the international arena.
In the coming time, South Africa will focus on implementing its National Development Plan (NDP) with a vision towards 2030, further boosting cooperation and partnership with traditional trade partners, including the South-South Cooperation, Prof. Henwood told Vietnam News Agency reporters in Pretoria.
The country strives to strengthen its involvement in international organisations such as the African Union (AU), the Southern African Development Community (SADC), BRICS (an association of five major emerging national economies: Brazil, Russia, India, China and South Africa) and the United Nations, he added.
Presiding over the workshop, APC President Ambassador Le Huy Hoang stressed that this is a good opportunity to foster collaboration between ASEAN member countries and local universities and institutes.
Lawmakers focus on poverty reduction for ethnic minorities
The implementation of policies and laws on poverty reduction for ethnic minority people in the 2005-2012 period was the focus of the National Assembly's Council for Ethnic Minority Affairs and Committee for Social Affairs when they held a review session in Hanoi on April 25.
At the meeting, which was broadcast live, Minister of Labour, War Invalids and Social Affairs Pham Thi Hai Chuyen said that during the period, the Government set up a central steering committee on sustainable poverty reduction, prioritised resources for infrastructure development, gradually cut down its direct assistance policies and increased loans for production.
Ministries and agencies adopted measures to help people escape from poverty and access preferential loans, she added.
Regarding farming land for the people, Minister of Agriculture and Rural Development Cao Duc Phat said many localities now have no land for agricultural production while forestry land remains abundant.
Since Prime Minister Nguyen Tan Dung issued a decision on the pilot allocation of forest land to ethnic minority people, 118,000 hectares have been allocated to nearly 5,430 households, he said.
Reviewing the social welfare issue, Deputy Finance Minister Vu Thi Mai stated that health issuance, housing and education support programmes for poor ethnic people have funding in place, but some localities have still seen slow progress.
The Government has set out measures to allocate budgets for the next stages, prioritising policies on social security and poverty reduction, she confirmed.
Regarding vocational training and job generation, Minister Chuyen said that the Government has approved two projects on vocational training for rural and ethnic minority labourers with the one aimed at sending them to work abroad.
Concluding the session, Chairman of the NA's Council for Ethnic Minority Affairs Ksor Phuoc asked ministries and agencies to review all mechanisms and policies to limit overlapping content and encourage businesses to provide financial, employment and technical assistance for ethnic communities.
VNN//VNS/VNA