VietNamNet Bridge – The amount of e-waste has been increasing rapidly in Vietnam. However, the hazardous waste collection for treatment has been counted on scrap iron dealers, not agencies or enterprises.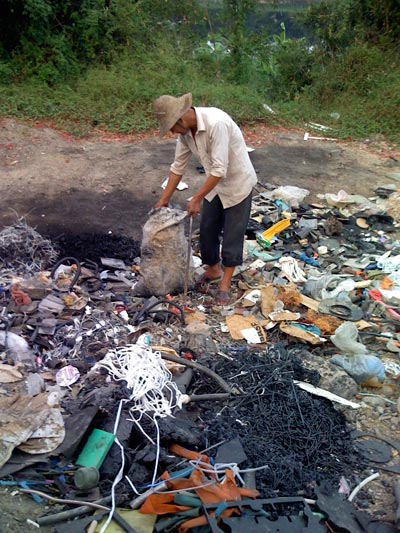 According to the Science & Environment Institute, belonging to the Hanoi University of Technology, the e-waste amount was 1,630 tons in 2005 and since 2010, the figure has been 61,000-113,000 tons per annum.
A report by VITTEP, an environment institute in HCM City showed that Vietnam still does not have the e-waste collection and treatment networks.
In HCM City alone, about 6,000 tons of e-waste is discharged to the environment every year. The figure is forecast to rise to 7,000-10.860 tons per annum by 2020. However, only a small part of it has been recycled or ruined.
Also according to VITTEP, more than 92 percent of the units that collect, carry and store e-waste do not have licenses. Of these, 97 percent are private run establishments with tiny operation scale, which do not meet the environment requirements.
The collected e-waste has been recycled with backward technique and in small scale. It is quite a surprise that there have been very few research works on e-waste treatment in Vietnam, though it is a topic of great interests for scientists.
Dr. Tran Minh Chi, Head of VITTEP, stressed that Vietnam can no more linger in its way to find out the measures to deal with the e-waste. A lot of hazardous components are contained in e-waste, including lead, cadmium, mercury, arsenic, which can destroy the ozone layer and pollute the land the underground water.
According to the Hanoi University of Technology, only 5 percent of people in Hanoi and 11 percent in HCM City bring e-waste to collection centers. Meanwhile 70-85 percent of people in HCM City said they would rather to sell the waste to scrap iron dealers or keep at their homes.
Scientists have pointed out that it is really alarming to rely on scrap iron dealers in collecting e-waste. No state management agency has come forward and given guidance to the process of collecting and treating e-waste. As a result, most of the e-waste has been left in the environment.
The e-waste collected by scrap iron dealers would be sold to private establishments which would recycle the waste with backward technologies at their badly equipped substandard workshops.
Scientists have pointed out that the e-waste treatment with backward technologies not only cannot help ease the environment pollution, but also make the pollution more serious, because the treatment process discharges smoke and hazardous elements.
To date, Vietnam still has not had any specialized big-scale waste treatment plant which can recycle and treat the e-waste. Therefore, the scientists have expressed their worry that more and more vast e-waste grounds would appear in big cities.
Under the Prime Minister's Decision No. 50, from January 1, 2015, the waste products such as batteries, electronic devices, electric and industrial equipment must be recalled for treatment. Manufacturers and importers must take the responsibility of setting up the centers to collect the waste products.
K. Chi