VietNamNet Bridge – Vietnam will establish 16 maritime reserves spreading from the north to the south by 2015 and plan to expand the system and put several new reserves into operation during 2016-2020 period.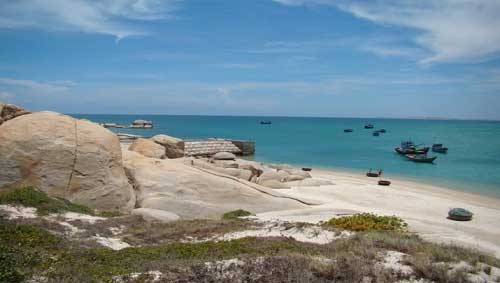 Cu Lao Cau Island in Binh Thuan. – File photo
The measures were revealed in an outline of Vietnam's maritime reserve system planning to 2020 recently issued by Prime Minister Nguyen Tan Dung.
Vietnam, together with the international community, is embracing a global strategy on protecting bio-diversity and marine ecosystems by facilitating fishery sustainable development and marine eco-tourism.
The master plan aims to create an important legal basis for ministries, sectors and coastal localities to be more proactive in protecting seafood resources and their marine environment, subsequently fostering Vietnam 's sustainable maritime brand name and economic development.
According to the Vietnam General Department of Sea and Islands, the country has 20 typical marine ecosystems which are home to many creatures.
The country has joined several international sea-related conventions, including the 1982 United Nations Convention on the Law of the Sea, the International Convention for the Prevention of Pollution from Ships, the Convention on Wetlands of International Importance and the Convention on Biological Diversity.
Therefore, its institutions on sea and island management need to be qualified in the context of international integration.
It is also necessary for the country to intensify international cooperation in maritime conservation in order to attract investment and advanced technology and marine management methods from other countries.
Source: Vietnam Plus