The People's Committee of central Thua Thien Hue province has decided to expand a nature reserve zone for the saola (Pseudoryx nghetinhensis), a species classified as critically endangered by the International Union for the Conservation of Nature.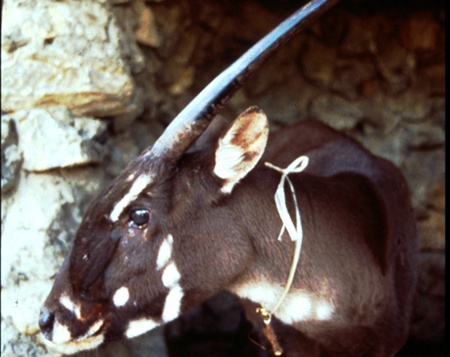 The decision will add 3,400 hectares of primary forest in the province's Phu Loc District to make a total area of 15,500ha for the reserve.
The move aimed to give the endangered saola a wider habitat to preserve the rare species, said Le Ngoc Tuan, director of the reserve.
The saola will have a habitat of nearly 200,000ha through other reserves in Quang Nam Province, Bach Ma National Park and Xesan National Park in Laos.
The reserve is situated in a primary forest area along the Truong Son Mountain Range, and is home to rare species including the saola, striped rabbit (Nesolagus timminsi), giant muntjac (Muntiacus vuquangensis) and Annamite muntjac (Muntiacus truongsonensis).
The province set up the reserve in 2010 following a proposal by WWF Viet Nam.
In related news, a large python is going to be released into the Saola nature reserve.
Last Wednesday, environmental police in the district seized the 45kg and 3.5m long python from animal traffickers and transferred it to the forest ranger team.
The team had planned to release it in Bach Ma National Park, but the park director refused, saying he needed experts to examine the python to make sure it was endemic to the park to ensure the safety of rare birds at the site.
A scientist from the HCM City based Wildlife at Risk organisation said the python would not pose a threat to the saola because it was on a different food chain.
Source: VNA