VietNamNet Bridge – Farmers in the central highland province of Dak Lak are losing their crops as wild elephants from local forests continue to feed on their crops.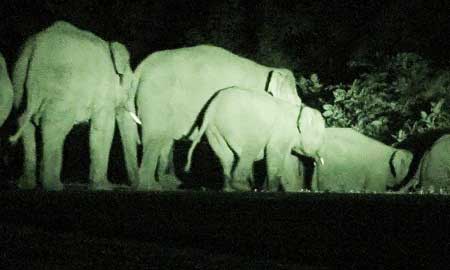 A herd of wild elephants in Dak Lak.
At least 58 hectares of crops like maize, banana and rice in Ea Sup and Buon Don districts have been destroyed by the magnificent beasts.
Hoan Vu Limited Company reported the biggest loss as nearly 50 hectares of their crops in Ea Sup District were destroyed. Around 2,000 metres of plastic irrigation pipes belonging the company have been broken as well.
Wild elephants have also destroyed nearly five hectares of maize in an area in the Buon Don protected forest. Such crops belong to ethnic minority people in Ea Mar highlands village in Buon Don District.
Farmers in Drang Phok highlands village in Buon Don District and Baba highlands village in Ea Sup District have complained about the same situation. Several maize fields there have been destroyed by wildlife.
Recently, many households in Hamlet 10 of Ea Sup District's Ia Rve Commune, became distraught as wild elephants destroyed over four hectares of their rice crops.
Pham Van Lang, Deputy Director of Dak Lak Elephant Conservation Centre, said currently the province has five herds of forest elephants with a population of between 60 and 70. These elephants often search for food in the core area of Yok Don National Park and in the neighbourhood as well.
"When we know that wild elephants are destroying local crops we've assigned forces to help with driving away these animals," he said.
He suggested that local residents who live nearby the Yok Don National Park should move their cultivation further away and plant new crops that are not the elephants' favourites.
"A long term plan for elephant habitats should be made to better protect such wildlife," he added.
Huynh Trung Luan, director of the centre said, "Apart from traditional measures to drive away elephants, we often provide early warnings to local residents to help them prepare measures to drive away elephants and ensure their own safety."
Source: DTriNews