VietNamNet Bridge – Not only destroying hundreds of hectares of cultivated crops, the wild elephants in the central province of Dak Lak have become even more aggressive, repeatedly striking down people to death.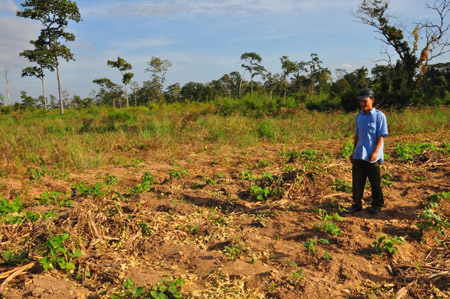 The herd of 30 wild elephants usually appears on the fields of people in J'Loi commune of Ea Sup district. Though experienced farmers have been trying every possible means to drive the elephants away, 4 hectares of rice, corn and cassava which were about to be harvested in some days have been devastated by the elephants.
The conflict between people and elephants has become more serious than ever. Elephants have no more food and they have to move to other places because there is no more forest for them. Meanwhile, people have more and more hated elephants.
Nguyen Van Hai, a farmer in hamlet No. 3 complained that he expected the profit of VND15 million this corn crop. However, the corn field has been destroyed by the elephants, bringing him a loss of VND30 million.
According to Nguyen Van Long, Chair of J'Loi commune, the herd of elephants has turned up over the last two weeks. They come from the forests on the twilight to seek food and destroy the fields. It's now the right time of harvesting farm produce, therefore, it's very difficult to drive the elephants away. The elephants would come back regularly, because they can find food on the fields.
R'Ve commune's local people also said a flock of 15 wild elephants has appeared since July 20. Five households in the locality have reported the damage of 3.5 hectares of crop.
Prior to that, in late April, 17 elephants flocked to the Ia Lop commune, stayed there for 10 days, ate up 50 hectares of bananas grown for export, 3 hectares of water melon and damaged 2,000 meters of water pipes.
Local people said Cambodian farmers on the other side of the border line have been reclaiming soil for cultivation. Therefore, the herds of elephants would return to Vietnam even if local people try to drive them away.
Ea Sup is not the only district which suffers from elephants. A report of the Dak Lak Elephant Conservation Center, since 2011, the wild elephants have damaged 185 hectares of crops in Ea Sup, Ea H'leo and Don Village.
Wild elephants now tend to penetrate more deeply into the cultivated land areas because the forests in Dak Lak have been narrowed too rapidly. Especially, the poor forests have been cleared to give place to rubber growing areas.
In the past, the forest areas in Ea H'leo district managed by Chu Pha Forestry Company was the favorite habitant of a herd of 40 wild elephants. However, the herd of elephants later had to move to Cambodia when the provincial authorities leased land to 4 enterprises which grow rubber trees.
According to the Dak Lak Elephant Conservation Center, the total forest area left in Don Village and Ea Sup district just can satisfy the basic needs for elephants. Since the wild animals have been driven away, they have not more aggressive. Two people have been killed by elephants since 2011 when they were on the way to the fields.
Meanwhile, 17 elephant individuals have reportedly died since 2011. Experts believe that many of them were killed by people to take revenge.
According to Pham Van Lang, Deputy Director of the center, Vietnam still does not have a specific program on settling the conflict between people and elephants.
Lao Dong