VietNamNet Bridge – Yellow snails, red ear turtles and Phuc Loc Tho fish (Lepisosteus Oculatus Winchell) – the harmful exotic species – have been selling everywhere. Especially, they are very expensive of up to millions of dong per individual.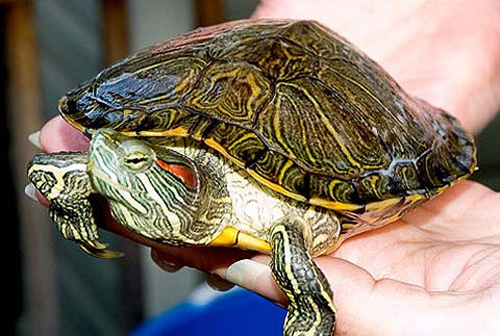 "I have a red ear turtle, which I would like to sell for VND500,000 or exchange for another fish." This was a piece of an ad appearing on a website a couple of weeks ago.
The sale offer immediately caught the attention of the netizens. The young man, who posted the ad piece, became the aiming point of the heavy criticism from the community for breeding harmful exotic turtle.
Breeding red ear turtles was once in fashion two or three years ago. People bought the turtles to breed as pets. Especially, housewives bought them to set them free later on the 15th of July of lunar calendar, the day when all the dead can be absolved.
Red ear turtles were specially liked by the youth because they could easily get adapted to the new living environment. Quang, a student, said that he bought a turtle at VND40,000 and after two years of breeding, he sold the turtle, which then weighted 1.5 kilos, for VND300,000.
It was very easy to find buyers, because red ears look strange and they were not too expensive and did not require much care.
However, after scientists gave warnings about the harmful species on mass media, red ear turtles have seen prices drop dramatically, and the turtles have been "boycotted" by ornamental species collectors.
Yellow snails were once farmed in a large scale in rural areas and suburbs of big cities.
Unlike red ear turtles, the snails have been raised for food. Thang, a big supplier of yellow snails to the restaurants in Hanoi, said the snails have replaced other kinds of normal snails to be present on the dishes served at the parties for Hanoians. Every day, Thang alone provides 20 kilos to the restaurants.
Since normal snails are too expensive, about VND100,000 per kilo, yellow snails, priced at some VND20,000, have been used instead.
Fifteen years ago, when they first turned up in Vietnam, yellow snails were once bred as ornamental species. Later, scientists found out that the snails damaged the crops. However, since yellow snails could reproduce very rapidly, they still have not been killed. Yellow snails remain a big headache to Vietnamese farmers throughout the country. In many provinces, local authorities regularly launch the campaigns, calling on farmers to kill the dangerous exotic species.
It seems that Vietnamese still cannot learn the lesson from the exotic species breeding. People nowadays rush to buy a strange kind of fish, called "ca dau sau" or "Phuc Loc Tho" (Lepisosteus Oculatus Winchell).
The fish has been bred by many collectors as ornamental fish. However, scientists have warned that the foreign sourced fish are omnivorous, which would kill other fishes and aquatic creatures, thus causing the ecological imbalance.
However, despite the scientists' warning about the exotic species, the fish still has been sold on the market at nearly one million dong.
A collector said Hanoians have been breeding the fish for the last two years, while the people in the south began breeding them earlier.
Lepisosteus Oculatus Winchell has become so favored by Vietnamese that big players would be willing to pay millions of dong to possess a couple of fish.
Hien, a collector, said a couple of fish has been offered to sell at VND10 million on a website.
Infonet