VietNamNet Bridge – A landslide that affected part of the city's dyke system through Ha Noi's Thuong Tin District is raising public concerns about the safety across the entire dyke system as the rainy season approaches.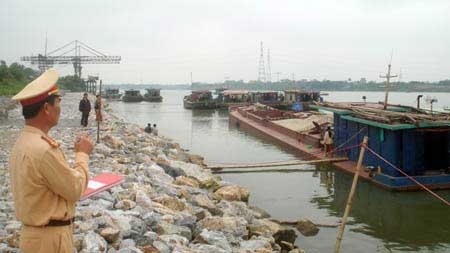 A police checks a barge illegally carrying sand.— Photo anninhthudo.vn
Tran Van Manh, a resident living 50m from where the 150m long and 1.5m deep landslide occurred said part of the dyke's foundation had sunk.
Heavy trucks traveling along this part of the dyke were causing it to sink further, he said, adding that he was worried about the threat of more landslides.
Local residents have temporarily covering the space created by the landslide with stones and soil to support the dyke, he said.
Uong Duc Ngoc, chairman of the district's People's Committee, said the landslide also threatened the stability of a nearby bridge. Local authorities are working with relevant agencies to ensure safety and inform people about the situation.
According to Ha Noi's Department of Flood and Storm Control and Dyke Management, landslides along the city's 470km-long dyke system had occurred more frequently in recent years and with more serious consequences.
Do Duc Thinh, director of the department, said sand exploitation was one of the main reasons for landslides near the city's dyke system, and authorities had responded with more inspections and prevention work.
The office's statistics showed there are nearly 15 illegal sand exploitation areas in the city.
In addition, there are nearly 200 illegal construction material stations operating along the city's river embankments and dyke system.
Thinh said local authorities should actively make more inspections and punish those carrying out illegal sand exploitation activities as these local authorities and residents are the first to detect these violations.
Local construction material stations should be asked to sign agreements on not trading sand that has been sourced illegally, he said.
To boost these efforts, Vu Hong Khanh, deputy chairman of the city's People's Committee, recently asked relevant agencies to ensure strict punishment of owners of boats that were used to illegally exploit sand from the city's rivers.
Commune-level People's Committees had been entrusted to end the operation of illegal construction material stations, as they were the main buyers of illegally exploited sand, he said.
Ngoc, chairman of the district's People's Committee, said local authorities had proposed a plan on upgrading its dyke system.
Source: VNS