VietNamNet Bridge – The dead body of a wild elephant in a state of decay and stinking, was detected on the bank of the Ea Sup Thuong Lake in the Central Highlands province of Dak Lak, which is known as the land of elephants in Vietnam, on March 18.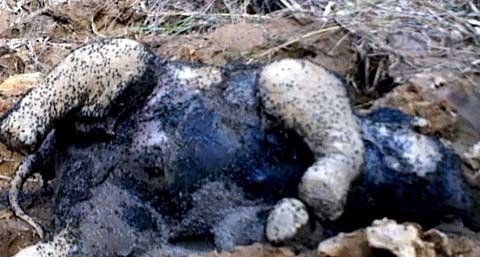 A dead baby elephant found in the Yok Don National Park in Dak Lak last December. 
Mr. Huynh Trung Lan - Director of the Dak Lak Center for Elephant Conservation – said on March 20 that the Center coordinated with the authorities of Ea Sup District to destroy the body of the elephant, which is about 3 months old.
The dead elephant was discovered on March 18 by local people.
Mr. Lan said the dead elephant may be a member in the 20-head elephant herd that sometimes appeared in the Yok Don National Park and Ea Sup district.
He also guessed that the elephant followed his mother to the lake to drink water and was bogged down, got exhausted and died.
Earlier, in mid-December 2012, the Yok Don National Park's rangers also found a dead baby elephant of about 100kg on the bank of a lake in the forest of Ea Sup district.
In less than one year, the authorities have found three dead wild elephants.
In fact, the herd of wild elephants in Dak Lak is still growing but the solutions to protect them are ineffective.
Trung Duong