VietNamNet Bridge – The Hoan Kiem or Sword Lake turtle is a species of turtle in Vietnam that has had the level of protection improved in the Convention on International Trade in Endangered Species of Wild Fauna and Flora (CITES).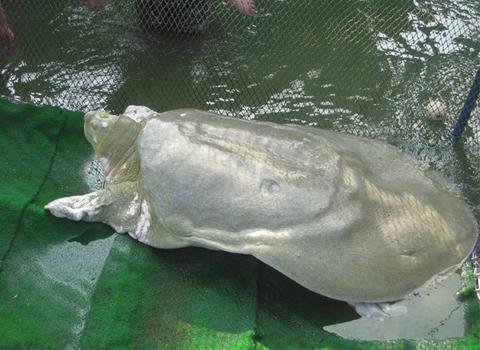 The Hoan Kiem turtle.
At the 16th CITES conference held in the city of Bangkok, Thailand from March 3-14, 200 participants agreed to raise the protection for the Hoan Kiem turtle (Rafetus swinhoei) from Appendix III to Appendix II.
The Appendix III includes all species that each member state stipulates in their laws to prevent or restrict exploitation and the need for cooperation with other member states to control the trade of these species.
Appendix II includes all species, although not be threatened with extinction but that may come if the trade in specimens of these species that do not comply with the strict regulations in order to avoid inappropriate use with their existence.
The Hoan Kiem turtle is an endemic species in Vietnam. According to scientists, the world now has only four turtles like the Hoan Kiem turtle, including one in the Hoan Kiem Lake, one in Dong Mo Lake (Hanoi) and the remaining two in captivity in China.
Early last month, Professor Ha Dinh Duc proposed Hanoi to ask the government to recognize Hoan Kiem Lake turtle as the national treasure.
Beside the Hoan Kiem turtle, 11 other species in Vietnam also have the level of protection in the Convention raise, including an endemic turtle species, named Mauremys annamensis.
At the meeting, Vietnam also proposed to add two other species of turtles of Vietnam to the periodic review list of the CITES in order to quickly put them in the list of Annex I. This Appendix includes species that are threatened with extinction due or may be due to trafficking. Trade in specimens of these species must be subject to strict regulations in order to not continue to threaten their existence.
According to experts, unsustainable trade is the main reason for tortoises and freshwater turtles in Vietnam being turned into food, pets, as well as remedies in traditional medicines.
Improving the CITES list is a very important step to help strengthen the management of trading activities.
S. Tung