VietNamNet Bridge – Many people in Dong Nai Province have been spending sleepless nights protecting their gardens from erosion as a result of illegal sand exploitation.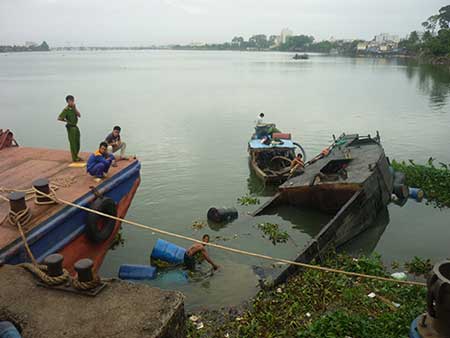 Illegal sand exploiters run away leaving their submerged boats.
While several hydropower projects have changed the current of the Dong Nai River, illegal sand exploitation has also plagued local people who are living along the river's banks for years.
Illegal sand exploitation is mainly recorded in Binh Hoa and Binh Loi communes in Vinh Cuu District, Long Tan and Phuoc An Communes in Nhon Trach District, as well as Buu Long, Long Binh Tan and Hiep Hoa wards in Bien Hoa City.
Illegal sand exploiters have been continuing to operate along the river at night, forcing local residents to stay up late at night. However, their efforts seem largely in vain.
Danger
Tran Van Lai from Hiep Hoa Commune said local people had no other choice but stay up late at night to guard and detect illegal sand exploiters but they often face the threat of violence. "My children came to meet illegal sand exploiters who did not change their behaviour but attack them. Some of my children were injured and frightened as well," he said.
Le Van Phuc from Buu Long Ward has a two-hectare farm near the river bank, which provides a livelihood for his family. However, land erosion has been plaguing his field for the last two years, sweeping away over three metres of land.
Huynh Hai, an owner of a grapefruit garden in Hiep Hoa Commune along the river, was very sad to see a dozens of his grapefruit trees swept away, affecting his family's income.
"Hiep Hoa Commune is consolidated by the Dong Nai River's alluvial soil. However, in recent years, land erosion has continued to plague the locality. This is a result of uncontrollable sand exploitation," Hai noted.
Land erosion has not only narrowed land areas of local residents but swept away several houses, threatening people's lives.
Nguyen Thi Tinh's family from Hiep Hoa Commune has a house around 10 metres from the river bank. Now they are living in danger as water has flowed increasingly closer to their house as a result of illegal sand exploitation.
"I've spent VND20 million (USD954.2) to build a wood dyke to protect my house but it doesn't work. We were compelled to relocated our house over 30 metres inside," Tinh said.
People in Vinh Cuu and Nhon Trach districts are also living in danger as a result of land erosion triggered by illegal sand exploitation.
Difficulties

"We've asked for the local authorities to help but they could do nothing," a local said.
The environmental police from Bien Hoa City, the provincial Department of Natural Resources and Environment as well as local waterway police have inspected the situation. But they find it difficult to deal with illegal sand exploiters.
When detected, illegal sand exploiters were willing to use their boats to ram barriers or even resist those who were on duty.
In 2012, Bien Hoa City's police detected 18 cases of illegal sand exploitation and seized 27 boats but the situation have yet to improve.
Source: DTriNews