VietNamNet Bridge – The 2013 ASEAN Regional Disaster Emergency Simulation Exercise (ARDEX) is scheduled to take place in Viet Nam in October.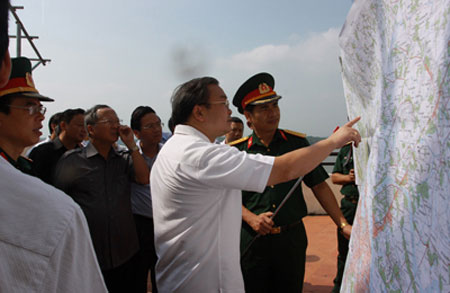 The ARDEX 2013 is scheduled to take place in Ba Vi District, Ha Noi in October.
A program for this event was approved at a meeting chaired by Deputy PM Hoang Trung Hai on Tuesday.
This year's ARDEX will deal with a supposed superstorm sweeping through the North of Viet Nam with wind gales of 14-15 level that causes landslide and widespread inundation.
The ARDEX is an activity of ASEAN countries to test the coordination process in response to natural calamities as regulated in the Standard Operation Procedure for ASEAN Agreement on Disaster Management and Emergency Response (AADMER).
Since 2005, ASEAN has launched ARDEX in Malaysia, Cambodia, Singapore and Thailand. Viet Nam was chose to host the ARDEX 2012.
Source: VGP