VietNamNet Bridge – The initiative by farmers in the central region to catch ricefield crabs with pesticide would destroy the environment and extirpate aquatic resources.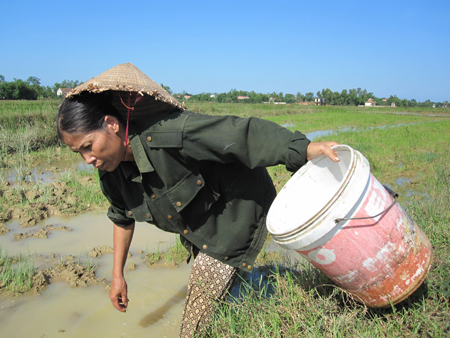 The communes in the middle of the Le Thuy district in Quang Binh province have been called the "freshwater fish hub" of the central province. The waters areas here have been compared with the "God's endless warehouse" of aquatic resources to feed local residents all year round.
However, in recent years, Le Thuy's local residents dare not eat freshwater or ricefield crabs anymore, because they fear that they would be poisoned with the crabs.
The problem is that local farmers now tend to catch crabs with pesticide to increase the output. If they continue catching crabs with traditional methods, they would not find anything, because aquatic resources have become exhausted.
T, a farmer, sprayed Motox pesticide into the water surface. Just a few minutes later, crabs and fishes of different kinds would appear on the water surface for him to collect.
Scientists have warned that with the new catching method, no fish or shrimp would be available here for local farmers to catch in just the next some years.
Vo Van Toai, a farmer in Loc Thuy Commune, has been farming fish and crabs for the last few years, earning tens of millions of dong a year.
Toai said he could not understand why crabs have disappeared from his farms and he got startled when realizing that the crabs have been caught by local farmers, with pesticide.
"No aquatic creature would be able to exist with the new fishing method. When pesticide is sprayed into the water surface, ricefields, shrimps and fishes, and even eels that live three meters under the mud, would float into the water surface," he said.
Meanwhile, the local farmers who have been catching fish with traditional methods complained that the fisheries output on the Hac Hai lagoon has decreased dramatically in recent years.
A woman, who was seen trying to catch crabs on the field at noon, said she had found only one kilo since the morning. "I am afraid that ricefield crabs in Le Thuy would get exhausted," she complained.
Le Van Loi, Head of the Aquatic Resources Protection Sub-department in Quang Binh province, was so surprised when hearing from reporters that local farmers are catching fish and crabs with pesticide.
Nguyen Xuan Hong, Head of the Plant Protection Department, said that with the low doses, Motox 5 EC, listed in the group No. 2, is less toxic to warm-blooded animals, less toxic to fish, moderately toxic to bees and toxic to crabs. Therefore, in many localities, farmers use Motox to kill the crabs which damage rice.
However, Hong said, Motox 5 EC has been "used for wrong purposes" by farmers when they catch crabs for food. This would badly affect the environment and human health.
Meanwhile, Hoang Van Thong, Deputy Chief Inspector of the Quang Binh provincial agriculture department, confirmed he has been reported about this. However, he said it is very difficult to find out those, who try to catch fishes with pesticide.
Tran Van Sau, Deputy Head of the Loc Thuy Commune's Police, said that they have several times failed to catch the farmers red handed. He said the Hac Hai lagoon has been put under the control of several communes. Therefore, the subjects can easily escape from the watch of the local police.
Dan Viet