VietNamNet Bridge – Viet Nam has outlined its commitment to reducing greenhouse gases (GHG) emissions with the implementation of the Green Growth strategy, approved by the Prime Minister last week.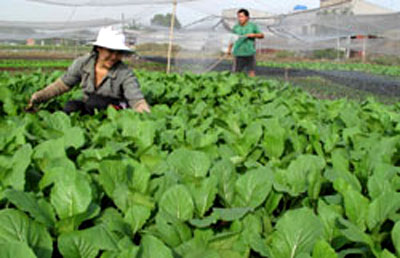 Farmers cultivate organic vegetables in Xuan Thoi Thuong Commune,
Hoc Mon District, HCM City.
The document sets a number of targets for improving the environmental situation in the country between now and 2020, with a vision reaching even further ahead. It is hoped that GHG emissions will decrease by between 8 and 10 per cent in that time, compared to levels recorded in 2010.
The Director of the Institute of Strategy and Policy on Natural Resources and Environment, Nguyen Van Tai, said although GHG emissions in Viet Nam have increased rapidly over the last few decades, they still remain low compared with other developed countries.
"Technically, Viet Nam has not been subject to any international mandatory obligations to cut down its emission level. However, Viet Nam has formulated its Green Growth strategy on its own initiative to make use of international assistance on this issue," Tai said.
The total GHG emissions per capita in Viet Nam is estimated to be about 1.9 tonnes of CO2 per year, compared to 0.3 tonnes in 1990. It is forecast to reach 5 tonnes by 2030.
As energy-related activities are a major source of GHG emissions, a target has been set decreasing the amount coming from this source by 10 to 20 per cent before 2020.
The strategy outlines a number of key measures to achieve this target. The main plan is for energy use to become more efficient, with the reduction of energy consumption in industrial activities, transport and commerce. This is hoped to be achieved via technology renovation, adoption of advanced operation process and development of a modern infrastructure.
The strategy is also targeting an end to the dependence on fossil fuels, while increasing the use of renewable energies by using market tools. A plan has been implemented to gradually remove subsidies for fossil fuels, which have been widely used up to now.
Another mission is to promote environmentally friendly green production that uses natural resources more efficiently. This is a radical part of the green growth model because rapid economic development over the past decades has resulted in serious environmental degradation.
The economy will be restructured to see investment increase in 'green' sectors such as high technology, recycling and environmental services. Resource-intense sectors will be required to adopt new ways of production to make better use of natural resources and assume greater control of waste management.
By 2020, the value of products from high-technology and green technology industries will account 42 to 45 per cent of the GDP while 80 per cent of manufacturing and trading establishments must meet environmental standards. Half of the manufacturing sites in the country are expected to adopt clean technologies for production.
Agriculture, known for being the largest GHG emitter in the economy, is going to adopt a more sustainable development model, with farmers being introduced to new procedures and technologies that enable a more efficient use of agricultural supplies, resources and technologies to process and reuse agricultural waste.
Forest plantation and conservation projects will be given a boost so that by 2020 forest coverage will be 45 per cent, allowing an increase in carbon dioxide absorption.
Another important goal is to foster a green lifestyle and sustainable consumption pattern. This will begin with the implementation of labelling informing the public about eco-friendly products. From now until 2020, a number of products including construction material, hospital equipment, transport vehicles and computers will become more green.
In the first ten years of this strategy, awareness-raising activities will be prioritised along with capacity-building for human resources and institutional frameworks. A database will be built alongside management tools and index sets relating to green growth models.
Viet Nam is the first developing country in the Asia-Pacific region to independently formulate its own Green Growth strategy with an aim to switch to a low-carbon economy.
VietNamNet/VNS