Education for Nature Vietnam (ENV) on August 27 said it has ended the operation of the last private bear bile farm in the Mekong Delta province of Tien Giang.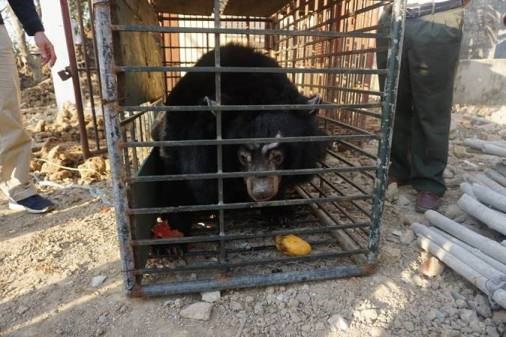 On the day, the Tien Giang forest protection department transferred five Asian black bears – affectionately known as moon bears – kept at a private farm to the Vietnam Bear Sanctuary in the Tam Dao National Park in the northern province of Vinh Phuc. 
As such, over the past two weeks, seven bears in captivity were voluntarily sent to rescue centres by their owners.  On August 14, two moon bears owned by Tran Van Trach in Thai Nguyen city were safely transferred to the Ninh Binh Bear Sanctuary.
The number of moon bears – traditionally harvested for their bile – that were voluntarily handed over from six provinces and cities to rescue centres has amounted to 13 since the beginning of 2018. 
ENV Deputy Director Nguyen Phuong Dung said achievements in Tien Giang and Thai Nguyen reflect the joint efforts between local agencies and non-governmental organisations on bear protection, contributing towards the ending of bear captivity in Vietnam in the near future.
ENV will continue its campaigns to convince bear owners to give up their animals, she affirmed.
According to ENV, Vietnam has 22 bear farm-free provinces. The number of bears in captivity significantly decreased between 2005 and July 2018 from 4,300 to 780.
In Vietnam, bears had been kept to extract their bile until the 1990s. Bear bile farming was outlawed in 1992 but owners were not forced to give up the bears they held, only serving to prolong the harmful practice.–VNA