VietNamNet Bridge – The Chu Mom Ray National Park received a pig-tailed macaque (macaca leonina species), recognised as a rare species, which was handed over voluntarily by a local resident, director of the national park Vo Sy Chung confirmed with the Kon Tum online newspaper on Thursday.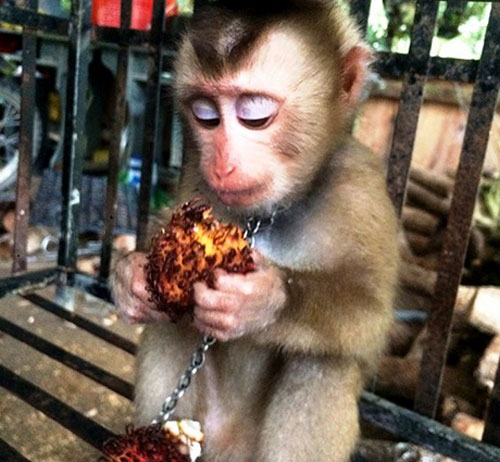 The macaque weighing 1kg is a rare forest-dwelling species that needs to be strictly protected. — Photo baokontum.com.vn
The macaque is currently receiving care and a health check from staff of the Centre for Animal and Plant Rescue, Preservation and Development under the Chu Mom Ray National Park before being released into nature.
The macaque weighs 1kg and was voluntarily handed over to the forestry office of Kon Tum City by Le Huy Quyen, who lives on Ngo Quyen Street.
Quyen bought the animal from an unknown merchant. Knowing that it is illegal to keep a wild and rare animal without the permission of the authorities, Quyen handed the macaque to the forestry office.
The pig-tailed macaque is a rare forest-dwelling species, belonging to the IIB category, which must be strictly protected, according to the official regulations on the management of endangered, rare and valuable forest-dwelling animals and plants.
Earlier in July, the centre also rescued a gray-shanked douc langur (pygathrix cinerea) in Kon Plong District.
Source: VNS