Save Vietnam's Wildlife (SVW), in cooperation with Cuc Phuong National Park in the northern province of Ninh Binh, has successfully released 25 Sunda pangolins (Manis javanica) into a safe habitat for the species.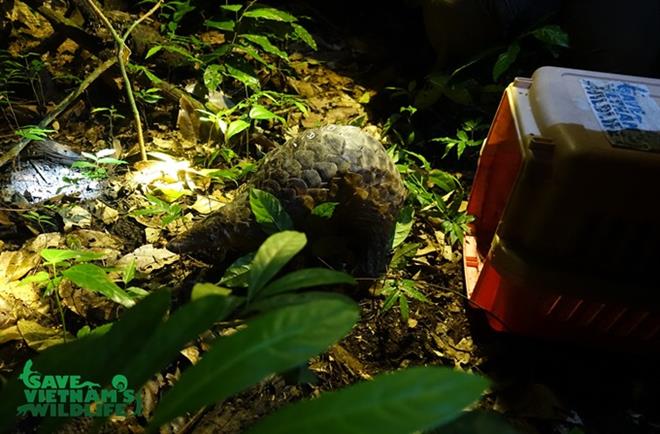 A pangolin is released in Vietnam. (Photo courtesy of Save Vietnam's Wildlife)
SVW said in a statement that these pangolins were rescued and taken care of by the Carnivore and Pangolin Conservation Programme after being seized from illegal traders by police and rangers. They have undergone a quarantine period of over a month with special care by veterinarians and professional keepers.
The pangolins had been transferred from ranger and police departments in the provinces of Quang Tri, Ca Mau, Hung Yen, Thanh Hoa and Hanoi Wildlife Rescue Centre to SVW.
According to SVW, all pangolins were identified with their own numbers to help recognise individual pangolins before and after release.
SVW Director Nguyen Van Thai said because of the unceasing efforts by authorities to stop the illegal wildlife trade and trafficking, SVW is rescuing more pangolins every year, adding that this is a good sign for wildlife conservation in Vietnam.
SVW has collaborated with both the Cuc Phuong National Park and Pu Mat National Park to rescue animals from illegal trade and return them to safe habitats.
Pangolins are the most trafficked animal in the world. Vietnam is home to two pangolin species, the Sunda Pangolin (Manis javanica) and Chinese Pangolin (Manis pentadactyla), both listed as Critically Endangered on the International Union for Conservation of Nature (IUCN)'s Red List, and are near extinction. 
In Vietnam, all illegal hunting, trading, poaching and transportation of even one pangolin will be punished with one to five years imprisonment, a fine of between 500 million VND (22,000 USD) and 2 billion VND under the conversion law modified in 2015, and coming into effect from January 1, 2018.
SVW is a national non-profit organisation that is committed to protecting and increasing populations of threatened wildlife in Vietnam by rescuing threatened animals, protecting entire populations and ensuring secured habitats. In 2016, SVW successfully released 95 Sunda Pangolins confiscated from the wildlife trade.-VNA