The forest ranger force of north central Thanh Hoa province said on June 14 that they had uncovered and seized a truck transporting 74 live Java pangolin individuals, listed in the world red book, weighing 339 kilogrammes.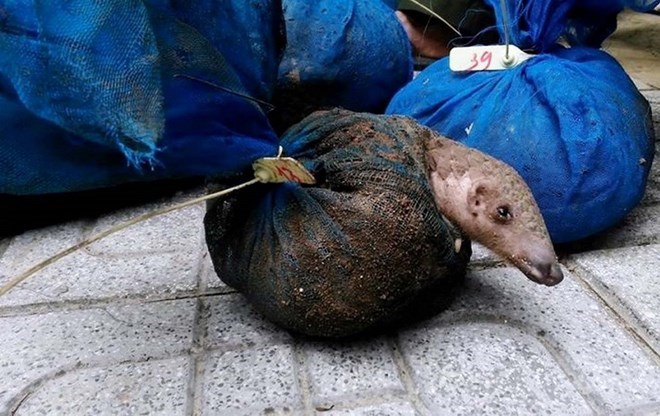 A live Java pangolin individual uncovered at the site
After being reported on a truck suspected of carrying wildlife on June 13 night, the mobile forest ranger team 1 stopped and examined the suspected truck in Hoang Minh commune, Hoang Hoa district, detecting 74 live pangolin individuals with a total weight of 339kg.
Driver Nguyen Van Manh, born in 1989, had no papers relating to the pangolins.
Manh, who resides in Quynh Luu district, neighbouring Nghe An province, said he was hired by a man named Hung in northern Bac Ninh province. 
The Thanh Hoa forest ranger force contacted the Cuc Phuong Wildlife Rescue Centre to have health checks for the pangolins before releasing them back into the wild.
Pangolins are the most traded animals in the world. Vietnam has two species of pangolins, the Manis javanica and the Manis pentadactyla; both are listed in the category of rare and threatened species subject to priority protection under Decree 160/2013/ND-CP. All hunting and trading of those species are illegal, together with the use of products from pangolin.-VNA