In only a week, two captive Asiatic black bears were rescued in the Central Highlands province of Lam Dong, Education for Nature Vietnam (ENV) said on Tuesday.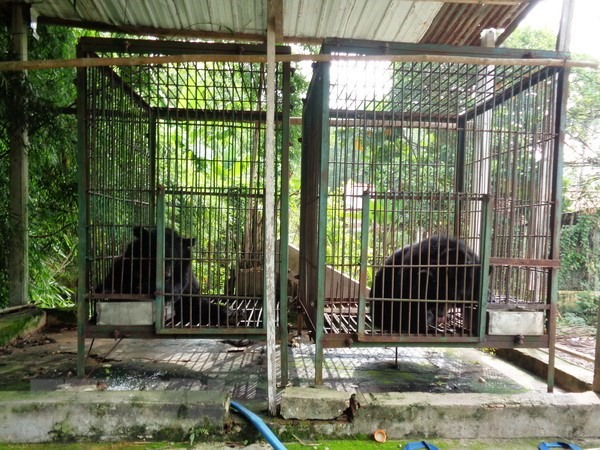 Two bears were handed over to rescue centres following the efforts of local authorities and wildlife conservation organisations. 
On the same day, Free the Bears, a wildlife conversation and animal welfare organisation, received a bear that had been caged for some 18 years and handed it over to a bear rescue centre of the Cát Tiên National Park. On June 6, another bear was rescued by the organisation and sent to the centre.
These two bears will undergo a medical examination and will be treated by the centre's specialists.
Phạm Quang Huy, deputy head of the Lam Dong Province Forest Ranger Department, said public agencies and Free the Bears would continue collaborating to encourage bear owners to voluntarily hand over their bears to rescue centres.
Six bears are still held captive in the province.
In another development, the Mekong Delta Province of Cần Thơ has become the next bear farm-free province, with the last caged bear transfered to the bear rescue centre of the Cát Tiên National Park on May 29, reported the Vietnam News Agency.
Nguyễn Văn Thắng, head of the Cần Thơ Province Forest Ranger Department, said the bear owners decided to transfer the animal as they realised they could not take care of it.
"Bear conservation is what we aim for," Thắng said.
According to ENV, Vietnam has 22 bear farm-free provinces. The number of bears in captivity significantly decreased between 2005 and 2017 from 4,300 to some 900.
In Vietnam in the 1990s, bears were kept to extract bile. The practice was outlawed in 1992.
VNS