VietNamNet Bridge – Landslides along riverbanks and the coast in the Cuu Long (Mekong) Delta have been increasing as local authorities continue to struggle to find solutions amid a budget shortage.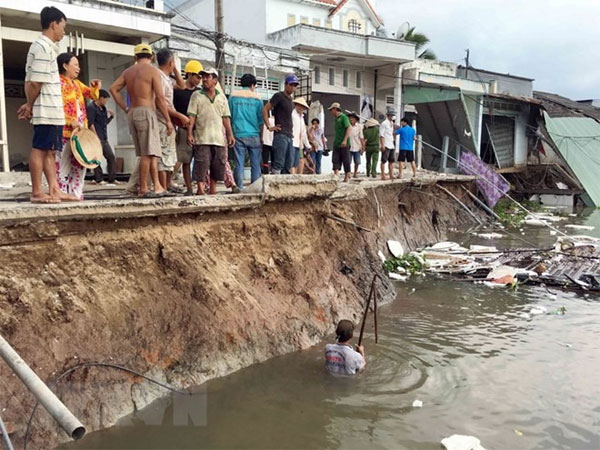 A landslide occurred along the riverbank of O Mon River in Can Tho City's O Mon District on May 21. – VNA/VNS Photo Thanh Liem
Last month, more than 10 erosion incidents occurred in the Delta, including in Ca Mau, Hau Giang and Long An provinces and Can Tho City.
In Can Tho, a landslide occurred along the O Mon River in O Mon District on May 21, causing five houses to fall into the river and threaten the safety of dozen of other houses.
The landslide in Thoi An Ward's Thoi Loi area eroded 55 metres of a river bank, and extended 10 metres deep inland. It caused a 50-metre section of a rural road to collapse into the river.
In Long An Province, a serious landslide occurred at an embankment on the Vam Co River in Can Duoc District's Tan Chanh Commune on May 23.
The erosion was 50 metres long and 8 metres wide. Cracks in houses were seen after the landslide.
Previously, the embankment had eroded in some sections, and a house located at the section affected on May 23 fell into the river.
Vo Kim Thuan, head of the Long An Province's Sub-department of Irrigation, said on Thursday that the province's Department of Agriculture and Rural Development officials had visited the sites and would try to come up with solutions to stop erosion incidents.
Local authorities have set up warning signs and barriers at the eroded site to ensure safety for transport and the public, he said.
Truong Cong Dinh, a resident in Tan Chanh Commune, said the embankment on the river had some cracks and eroded on May 23.  
The delta has 562 eroded sites along rivers and sea coasts with a total length of 786km, according to the Ministry of Agriculture and Rural Development.
Of the number, 42 eroded sites have a combined length of 149km, including 26 river sites and 16 coastal sites. These are extremely dangerous and need to be resolved urgently.
The total investment in the Delta to solve eroded sites is expected to cost about VND6.99 trillion (US$307.9 million).
An Giang, Dong Thap, Ca Mau and Bac Lieu provinces have been most affected by erosion in the delta.
Erosion prevention
As of the end of last year, only 138 km of eroded river sites and 49 km of eroded coastal sites in the delta have embankments and dykes built, according to the Southern Institute of Water Resources Research.
A model to build wave-breaking dykes along the eroded coast to reduce the damage of waves and preserve silt built-up to plant mangrove forests in the eroded area on Ca Mau Province's Ca Mau Cape has achieved positive results.
However, the construction of embankments and dykes in the delta could not catch up with the erosion rate because of the lack of budget, planning and co-operation among the delta's localities, according to experts.
The delta's soil foundation is low and weak, so local authorities should relocate households in erosion-prone areas to safe areas, they said.
Construction projects that were built illegally along riverbanks should be demolished, they said.
Local authorities should also ban construction of houses and other building projects within 20-30 metres of riverbanks where erosion prevention projects have not been built, they said.
At a meeting held in Can Tho City on Thursday to review the city's task of natural disaster prevention, control and rescue, Vo Thanh Thong, chairman of the city's People's Committee, said that local authorities should stop granting licences to build houses on rivers.
The chairpersons of the People's Committees of communes and wards would be held responsible for building stilt houses on rivers, he said.
This year, erosion occurred in the city's O Mon, Binh Thuy, Thot Not, Cai Rang and Phong Dien districts. Of the districts, O Mon was the hardest hit.
Le Viet Si, chairman of the O Mon District People's Committee, said landslides along the O Mon River in Thoi An Ward had affected 36 households.
The district had asked the city to offer housing for 22 families whose houses had been affected by erosion, he said. 
VNS