VietNamNet Bridge – Vietnam is one of the many countries in the world committed to fighting illegal wildlife trade, a meeting in Hanoi was told on May 31.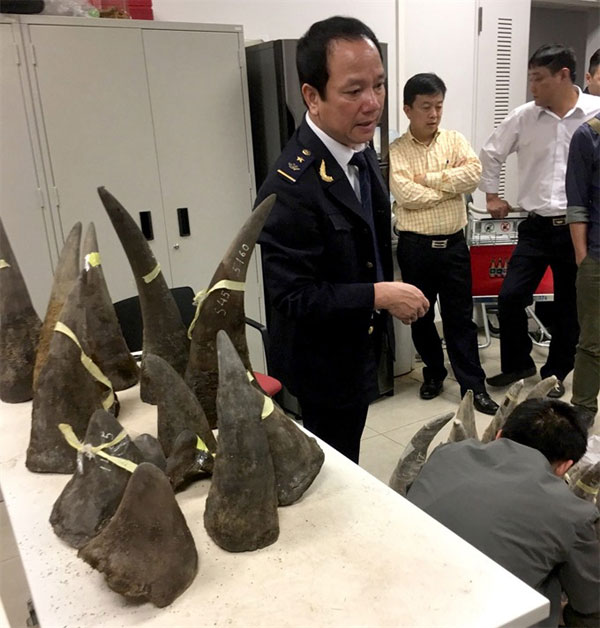 One hundred kilogram of illegal animal horns were seized on a flight from Narobi, Kenya to Noi Bai International Airport by Viet Nam Customs in March 2017. — VNA/VNS Photo
Hosted by the Ministry of Agriculture and Rural Development and the British Embassy, it was held to announce a one year update into plans to tackle the outlawed animal trade.
Two years ago, Vietnam pledged its support at the Ha Noi International Conference on Illegal Wildlife Trade (IWT).
The report was compiled by relevant ministries and agencies from 25 countries and international organisations, highlighting progress of the Ha Noi Statement actions that were pledged to eradicate the market for illegal wildlife products.
Governments of the countries have increased bilateral and multilateral co-operation and worked with international organisations and non-Governmental organisations to implement many measures and take active actions to reduce demand for wildlife products and gradually stamp out the consumption.
Many countries and organisations have amended related legal documents and laws to increase punishment for these kind of crimes.
Respondents highlighted the tremendous work that has been implemented since the conference, including a domestic ivory ban in China, a US$9 million project on IWT supported by the US, and a revised Penal Code in Vietnam.
They have also increased training to improve capacity for law enforcement agencies such as police, customs and border guards to help enhance the efficiency of their inspection and patrol work at hot "spots" of wildlife trade. Some countries have sent experts to others countries to assist in training and consultancy activities, the report said.
Vietnam's efforts
Vietnam committed to taking stronger measures and continuing to take a leading role in the regional and international co-operation to fight illegal wildlife trade, said Deputy Minister of Agriculture and Rural Development Ha Cong Tuan.
Wildlife protection is becoming stricter under regulations outlined in the amended Penal Code of Vietnam, which, starting at the beginning of the year, was part of the country's efforts in realising its commitments, said Tuan.
Under the amended Penal Code 2015, hunting, catching, killing, rearing, caging, transporting and trading wild animals is a crime. This extends to possession of dead animals, body parts and products of rare, precious and endangered wild animals. The maximum jail term for crimes related to wildlife management has increased to 15 years.
Deputy minister Tuan said Vietnam has held many activities to raise awareness of local people, businesses and logistic transport companies. A number of leading maritime transport businesses announced to stop transporting endangered species.
The Viet Nam Administration of Forestry has co-ordinated with the Ministry of Education and Training to build an extracurricular programme on wildlife protection to be taught at primary schools from 2018.
Vietnam has also increased co-operation with countries in the world in the fight and actively implemented Memorandum of Understandings on wildlife trade prevention and control with some countries such as China, Cambodia, Laos and South Africa, according to Tuan.
The country continued to complete legal documents to create firm foundation for wildlife protection, he said.
The report is a bridge between the Ha Noi Conference on Illegal Wildlife Trade in 2016 and the upcoming London Conference on Illegal Wildlife Trade in October 2018 hosted by the UK government.
The report follows the four main themes set out at the 2016 Ha Noi conference, including eradicating markets for illegal wildlife products, ensuring effective legal frameworks, strengthening law enforcement, and ensuring sustainable livelihoods and economic development.
According to the Ha Noi Statement, illegal wildlife trade is increasing the risk of extinction for many endangered and protected terrestrial and aquatic species and over exploitation of others.
This destabilises the well-managed and sustainable development of wild species and adversely affects natural resources and rural communities as well as results in the conversion of land uses and generates illegal profits for transnational organised crime syndicates.
This also undermines good governance and the rule of law; fuels and thrives on corruption, and increases the risk of transmission of infectious diseases.
Source: VNS