VietNamNet Bridge - "To protect the forests, we need the most dedicated and disciplined forest rangers who fight as a matter of honor."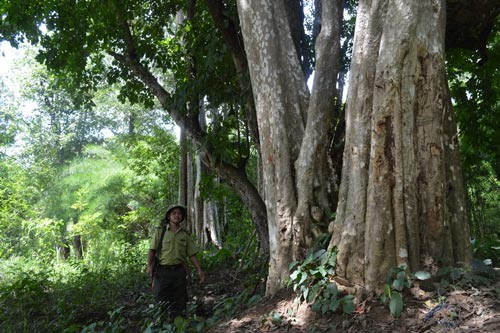 The Yok Don National Park
These words are framed and hung on the wall of a low-roofed house, about 20 square meters large, in the core area of the Yok Don National Park in Dak Lak province. 
Below the words is a saying by Albert Einstein: "The world will not be destroyed by those who do evil, but by those who watch and do nothing."
Nguyen Huu Tao, deputy head of the Yok Don National Park's Forest Rangers' Unit, said Do Quang Tung, acting head of the Forest Protection and Development Department (FPD), who was once director of Yok Don National Park, asked to write the words on the wall to remind forest rangers to observe discipline, to not lend a hand to illegal loggers, and to not stand idly by when the forests "bleed".
The year 2015 saw a reduction of 30 percent compared with 2014, while the figures were 31 percent in 2016 and 33 percent in 2017.
Tung was appointed to the post of director of the national park in July 2015. Unlike his predecessors, Tung spent two months visiting forest rangers' stations to learn about forest protection and management, and about the lives of rangers. 
He talked to workers to help improve their qualifications and awareness, and created best conditions for forest rangers to live in the midst of forests.
With Tung's instructions, forest protection saw improvements. Tung asked forest rangers to use bicycles or walk when they are on patrol, because motorbike sounds will alert illegal loggers. Tung himself walked or rode a bicycle every day.
While predecessors set the target of reducing the number of deforestation cases and the volume of stolen timber by 20 percent per annum, Tung wanted 30 percent. 
During Tung's two-year stay in Yok Don, the number of illegal logging cases decreased. The year 2015 saw a reduction of 30 percent compared with 2014, while the figures were 31 percent in 2016 and 33 percent in 2017.
When Tung came to Yok Don, he found that though the ranger staff was restructured and strengthened, deforestation still occurred every day. 
Tung decided to apply a flexible policy – educating forest rangers with a sense of responsibility, encouraging them to try hard to fulfill their assigned tasks and impose heavy sanctions on violators.
An analyst commented that applying a flexible policy is a wise move to protect the forests, because forest rangers can only help ease deforestation if they are backed by people and local authorities.
Tung has at times caught locals illegally carrying timber out of the forests, but he overlooked the violations, talked to them and converted them. Many of them later gave up illegal logging and became efficient partners, helping stop violators.
RELATED NEWS
Experts emphasize elephant conservation
Border guards suspended over major illegal logging case
Mai Chi