VietNamNet Bridge – The central province, in co-operation with the Centre of Biodiversity Conservation, GreenViet, began an urgent conservation project for two herds of gray-shanked douc langurs (pygathrix cinerea) in a forest of Nui Thanh District's Tam Mu Tay Commune.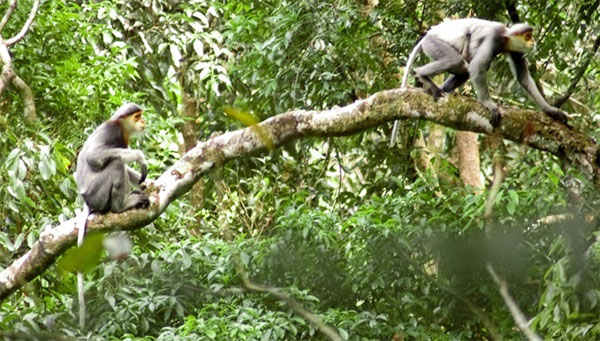 Gray-shanked douc langurs (pygathrix cinerea) pictured in a forest in central Vietnam. Quang Nam Province started an urgent programme to protect a population of the endangered langurs in Nui Thanh District. — Photo courtesy GreenViet
Deputy head of Quang Nam Forest Protection sub-department Tu Van Khanh said the population of 20 gray-shanked douc langurs were found living on 10ha of primary forest in 2000, and the local community have since protected the critically endangered primates.
Khanh said the langurs, listed on the International Union for Conservation of Nature (IUNC) Red List as one of the world's 25 Most Critically Endangered primates in the world, and only found living in Vietnam, faced being wiped out when an acacia log farm began expanding in the area.
He said the endangered langurs were found living in a forest in Nong Son District of Quang Nam Province.
As planned, the province plans to expand the protection area for the langurs from 10ha to 80ha, and begin reforestation of the primary forest to make a better habitat for the species.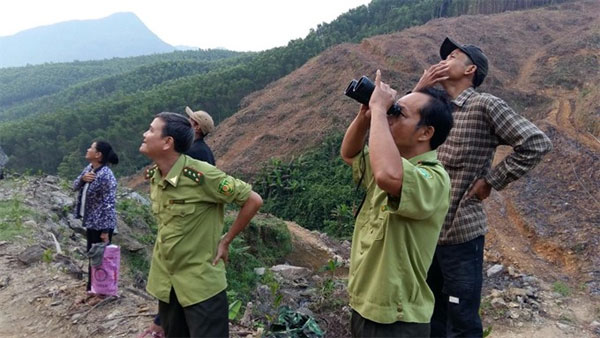 Rangers and local residents voluntarily protect two herds of gray-shanked douc langurs in Hon Do Mountain in Tam My Tay Commune of Nui Thanh District. A group of nearly 20 langurs was found living in a primary forest in the district of Quang Nam Province. — VNS Photo Cong Thanh
Experts from the Frankfurt Zoological Society's Viet Nam Primate Conservation Programme and GreenViet will conduct a survey on the existence of the langurs to allocate a special protection zone for prolonged conservation.
Experts from Frankfurt Zoological Society said around 1,000 gray-shanked doucs were recorded living in five provinces, including Quang Nam, Quang Ngai, Binh Dinh, Kon Tum and Gia Lai.
Gia Lai Province's National Kon Ka Kinh Park preserves the largest number of langurs (250 individuals). 
Source: VNS