The customs office at Saigon Port under the Ho Chi Minh City Customs Department, in coordination with relevant forces, discovered and seized nearly 3.8 tonnes of pangolin scales which were hidden in two containers imported to Vietnam from Congo through Cat Lai port.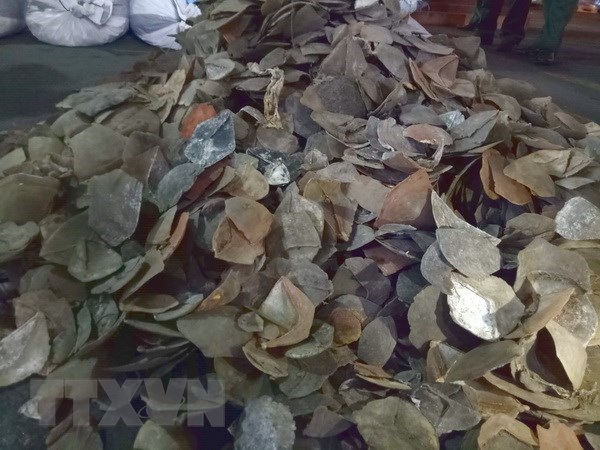 The pangolin scales  seized at Cat Lai port 
The containers were unloaded in Cat Lai port on April 22 after transiting Singapore.
The containers, which were declared on paper to contain wood, were addressed to Thien Phuoc Duc Ltd. Company at No 50 Nguyen Trai Street, Tan Thien ward, Dong Xoai town of the southern province of Binh Phuoc.
After examining the containers, authorities uncovered the pangolin scales in 100 jute bags hidden in the middle of the containers covered by wood blocks.
The case is under further investigation.
Vietnam has two species of pangolins, the Manis javanica and the Manis pentadactyla. Both are listed in the category of rare and threatened species subject to priority protection under Decree 160/2013/ND-CP.
 All hunting and trading of those species are illegal, together with the use of products from pangolins.-VNA