Nguy Thi Khanh, 41, director of Viet Nam's Green Innovation and Development Centre (GreenID), features on the newly-published list of seven winners of the 2018 Goldman Environmental Prize - the world's largest award for grassroots environmental activists.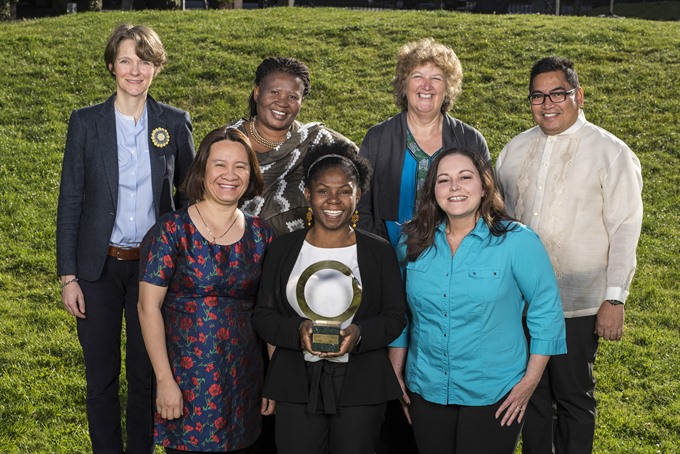 Khanh (left, front row) with other winners of the 2018 Goldman Environmental Prize.— Photo courtesy of GreenID Viet Nam
Khanh used scientific research and engaged Vietnamese State agencies to advocate for sustainable long-term energy projections and reduction in coal power dependency in Viet Nam. Her efforts helped eliminate 115 million tonnes of carbon dioxide emissions from the country annually.
The winners will be awarded the prize at an invitation-only ceremony on Monday at 5:30 pm (PT) at the San Francisco Opera House. They are also invited to attend a ceremony at the Ronald Reagan Building and International Trade Center in Washington, D.C. on Wednesday, April 25, at 7:30 pm (EDT).
This year's winners include Francia Márquez, a formidable leader of the Afro-Colombian community; Claire Nouvian, a tireless defender of the oceans and marine life; Makoma Lekalakala and Liz McDaid, who built a broad coalition to stop South Africa's massive nuclear deal with Russia; Manny Calonzo that spearheaded an advocacy campaign that persuaded the Philippine government to enact a national ban on the production, use, and sale of lead paint; and LeeAnne Walters, who led a citizens' movement that tested the tap water in Flint, Michigan, and exposed the Flint water crisis, compelling the local, state, and federal governments to take action to ensure access to clean drinking water.
The Goldman Environmental Prize was established in 1989 by late San Francisco civic leaders and philanthropists Richard and Rhoda Goldman. Prize winners are selected by an international jury from confidential nominations submitted by a worldwide network of environmental organisations and individuals.— VNS