The Ministry of Natural Resources and Environment (MONRE) will spend 30 per cent of its budget and personnel on irregular inspections of suspected environmental violations this year.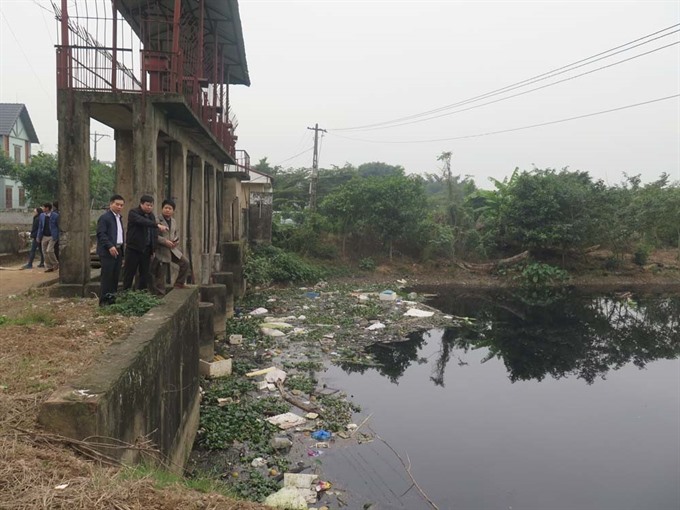 Authorities in Hai Duong Province inspect a stretch of the Bac Hung Hai irrigation channel in the province in February 2018. Stretches of the channel in Hanoi and in the provinces of Hung Yen and Hai Duong have been severely polluted in the past years, affecting several households. 

This was announced by MONRE deputy chief inspector Le Vu Tuan Anh at a press conference in Hanoi on Thursday.
"The ministry will conduct irregular inspections of river basins where violations of environmental regulations have been reported, such as the Bac Hung Hai and Duy Tien irrigation channels," Anh said.
The ministry will also conduct irregular examinations of environmental issues in Hanoi and in the northern provinces of Bac Ninh, Hung Yen, Ha Nam and Nam Dinh, he added.
'Irregular inspections' are those conducted after environmental issues have been brought to MONRE's attention by local residents or the media, Anh explained.
"We would like to ask all newspapers and reporters to inform us whenever they notice environmental violations," he said.
Speaking about the MONRE's inspection plan for this year, Anh said the ministry would work to identify the management responsibilities of the People's Committees in the four provinces of Bac Kan, Bac Ninh, Quang Nam and Ca Mau with regard to environmental and natural resource issues.
It will conduct thorough inspections of establishments that pose high risk of environmental pollution such as dyeing, plating and thermoelectric production facilities, as well as operation of reservoirs across the country, Anh said.
MONRE will also inspect land use and management of 19 industrial parks, industrial clusters and economic zones in the six provinces and cities of Thai Nguyen, Can Tho, Dong Nai, HCM City, Bac Ninh and Binh Dinh, he said.
Some 300 cases of environmental violations were reported to MONRE in the first quarter of this year. — VNS