VietNamNet Bridge – Hundreds of thousands of hectares of crops in the North of the country are being watered with polluted water.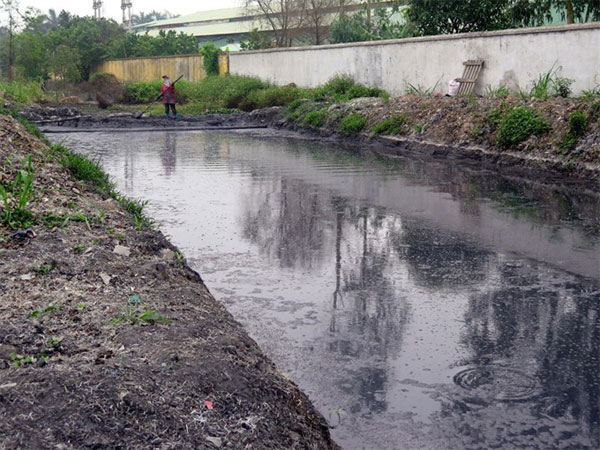 The bed of water, belonging to the Bac Hung Hai irrigational system, is seriously polluted by waste water discharged from plants in the Tan Hong Industrial Zone in the northern province of Hai Duong. — VNA/VNS Photo Manh Tu
Bac Hung Hai irrigation system including a main dredged canal of more than 232km, branch canals of about 2,000km, dams, dykes and pumping stations – spans over three northern provinces of Hai Duong, Hung Yen, Bac Ninh and part of Hanoi.
The system built in the late 1950s is limited by the Hong River to the west, the Duong River to the north, the Thai Binh River to the east and the Luoc River to the south.
It is designed to provide water for 135,000ha of crops and control floods for 185,000ha of cultivation area.
Due to rapid industrialisation and urbanisation in the area in the last few decades, untreated wastewater from industrial zones, craft villages and residential areas has seriously polluted the irrigation system.
Dr Nguyen Trung Dung from Water Resources University said the pollution was mainly caused by wastewater from industrial complexes of Sai Dong A, Sai Dong B, Duc Giang and residential areas along the Cau Bay River in Hanoi's Long Bien and Gia Lam District.
According to Hung Yen Province's Department of Natural Resources and Environment, more than 30 factories in the province release wastewater into Bac Hung Hai irrigation system. Most of the factories operate in garment sector, food processing or steel production and release untreated wastewater.
As part of the irrigation system, many canals running through residential areas in Hung Yen Province are polluted, blackened, reeking and filled with garbage.
Nguyen Quy Chuc, a resident in Tan Quang Commune in the province's Van Lam District said that Dình Du Canal used to be clean enough for people to swim in but now, it was filled with garbage and black water.
Chuc said that polluted water was still used to water crops.
"We really want agencies to take actions to save the river," Chuc told the Vietnam News Agency.
Bui Minh Tuan, deputy director of Bac Hung Hai Ltd Company which manages the irrigation system, asked for the co-operation of local authorities, environment departments and police in detecting and punishing polluters.
He said that the agriculture ministry should consider investing in works to control the quality of water in canals.  
Dung from Water Resources University said that water pollution in suburban irrigation systems and in Bac Hung Hai system in particular had been increasing and posed big challenges to agriculture.
To reduce pollution, Dung suggested Hung Yen Province dredge and clean canals.
A surveillance system should be installed to assess the quality of water in the canals, he added.
People living along the canals must be more aware of the need to keep the environment clean and not throw garbage in the canals.
Dung said that Hanoi should build wastewater treatment works in Long Bien District to better treat urban wastewater.
Source: VNS