VietNamNet Bridge – A large amount of garbage was taken out of a drainage canal in Hanoi after pollution was reported by the media.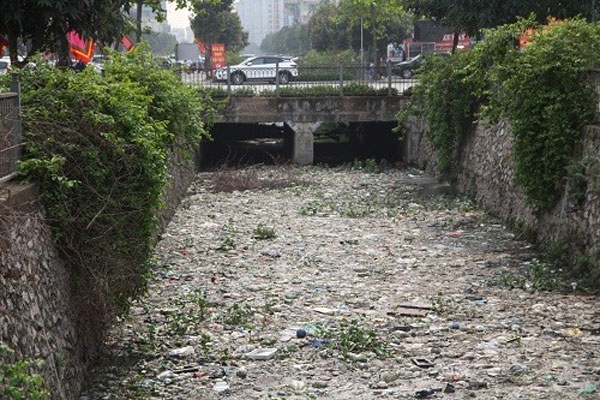 The canal filled with garbage last Friday. — Photo antt.vn
The canal, located on Mac Thai To Street in Cau Giay District, caught public attention last week for being filled with garbage and smelling foul.
The canal had a dark, murky colour, with its surface covered by floating garbage. Zing online newspaper dubbed it "a huge garbage river."
Located in front of the Yen Hoa Elementary School and Yen Hoa Kindergarten, the foul smell reportedly disturbed pupils and residents in adjacent areas.
After it hit the headlines, last Friday the People's Committee of Yen Hoa Ward deployed sanitation workers and an excavator to clean the canal.
Garbage collectors from the Hanoi Sewerage and Drainage Limited Company (HSDC) were also seen fishing garbage out of the canal yesterday.
However, these seem temporary efforts as the canal is not managed by any of these agencies. It is unclear which agency will be responsible for cleaning the canal if it becomes polluted again.  
"The canal has been under the management of the Cau Giay District's project management board since it was constructed in 2012," said Do Ngoc Anh, vice chairman of the Yen Hoa People's Committee.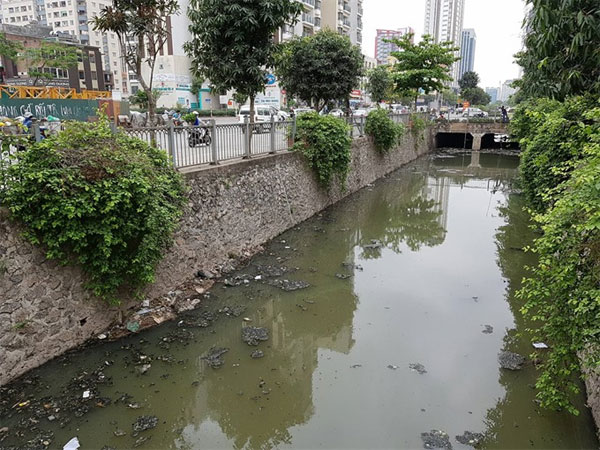 A photo taken yesterday shows the condition of a drainage canal on Mac Thai To Street in Hanoi has improved after its pollution was reported by the media last week. — VNS Photo Bao Hoa
"The board has not handed over the construction to HSDC although it was completed a long time ago," he told An ninh tien te & Truyen thong (Monetary Security & Communications) newspaper.
Representatives from the ward and the company examined the canal together, and agreed to ask Cau Giay District to hand over the canal to the city's People's Committee, he added.
An official from HSDC's Drainage Maintenance Enterprise No 4 said such unclear division of responsibility applies not only to the canal, but many other water drainage constructions in the city.
"We still agree to dredge and clean them, but only if someone requests it, like wards' or districts' authorities," she said.
As for the cause of the pollution, some residents said it was because of wastewater released from adjacent households and apartment complexes.
A garbage collector who was dredging the canal yesterday said the garbage was probably thrown into the canal by pupils from the adjacent schools and their parents. But Do Thi Kim Loan, principal of the Yen Hoa Elementary School, said such behaviour had not observed around the school.
"The canal was polluted by the time we moved to this area," she said. "Our pupils only litter inside the school."
The canal is among several constructions that were completed in 2014 to celebrate the 60th anniversary of the liberation of the capital city. 
Source: VNS