VietNamNet Bridge - The dark sides of massive tourism development include damage to natural landscapes and local culture.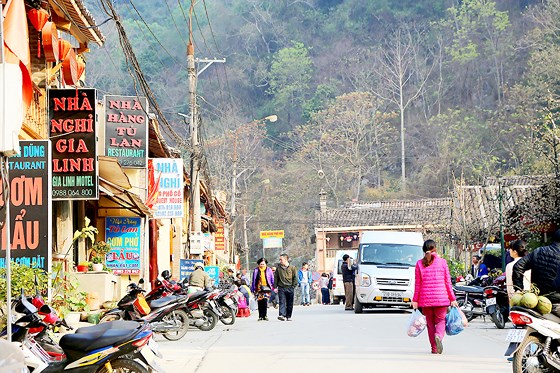 Tourists in Sa Pa
Sa Pa in Lao Cai province, Dong Van Plateau in Ha Giang province and Tam Dao Mountain in Vinh Phuc province are all famous tourism sites thanks to the wonderful natural landscapes and indigenous local culture.

A group of reporters who wanted to relax on a short holiday recently chose to visit Sa Pa. However, they changed their mind after a colleague, who had just returned from Sa Pa, said they would be disappointed. 

"Sa Pa is now a great construction site with building material-laden trucks, sand, dust, and garbage," she said.
The dark sides of massive tourism development include damage to natural landscapes and local culture. 
So, the group of reporters decided to go to Tam Dao.

With 1000m high, Tam Dao has a cool weather in all around year like Da Lat and Sa Pa.

However, they jumped out of the frying pan into the fire. The roads were full of dust  from road expansion sites. The further they went into the central area, the more terrible was the noise. The small lanes with fresh air which existed in the past had been replaced with rusty and cramped roads.

The central square area, where there were once small streets and slopes, had turned into a park with stone benches, see-saws, swings, fountains and a concrete-built word 'Tam Dao'.

A big café in the central area marred the landscape. On their hotel balconies enjoying Tam Dao's mountainous landscapes, the reporters could see only dusty construction sites and houses close together.

The road to the famous ancient stone church was covered by various goods, hats and shirts for sale. Several grilled meat restaurants produced thick smoke. 

Leaving Tam Dao disappointed, the reporters decided to go to Sa Pa to see how it had changed. 

Twenty years ago, Cat Cat was an original hamlet of ethnic Mong, where there was no trace of tourism services. And Fansipan mountain was unreachable because it required a walk of two to three days to reach its peak.

Sa Pa now has a lot of concrete roads, cars, houses and hotels. Near the imposing town's court, there is newly built market full of visitors. 

Sa Pa is a small town, but it took a 45-seat bus a lot of time to get to the hotel on Hoang Lien street, also in the central area. Traffic jams often occur there on the weekends during rush hour.
RELATED NEWS
Colourful Sapa children earn a living on the street
Thien Nhien