VietNamNet Bridge – Exploding dynamite when fishing is being blamed for the mass of dead fish that washed ashore in the central province of Quang Tri.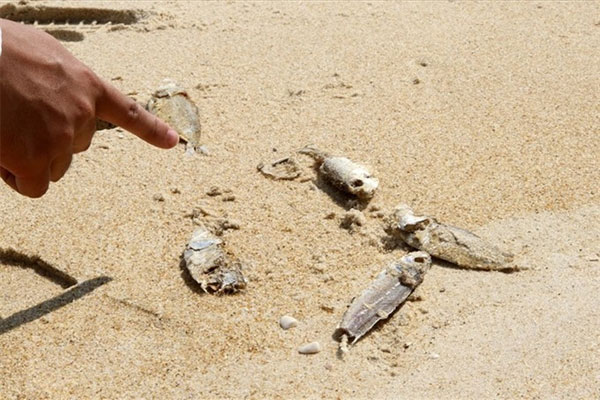 Dead fish found on a beach in Quang Tri's Trieu An Commune. — Photo laodong.com.vn
According to a report by the province's Department of Agriculture and Rural Development, the fish deaths were suspectedly caused by explosions, but fishing boats were unable to collect them all, leaving the remaining fish to wash ashore, according to the report.
The report also gave other causes, including fish dropped from broken nets in a bumper catch.
The department said they had sent samples of the dead fish to Hue for testing, and the results are expected to reveal the exact causes of their deaths.
Earlier this week, masses of dead fish were found in Quang Tri's communes of Trieu Van, Trieu An, Gio Ha and Cua Viet Township.
In Trieu An, residents collected 35kg of dead fish on a local beach. Le Van Loi, a fisherman, insisted that the fish washed ashore after being killed by dynamite. He said fishing boats from the central provinces of Thanh Hoa and Nghe An sometimes use dynamite for fishing in Quang Tri's waters.
Meanwhile, border guards in Cua Viet Township said the dead fish were dropped from nets following a large catch by a local fisherman.
The use of dynamite and electric shocks when fishing is prohibited in Vietnam. However, weak enforcement results in such fishing remaining popular in fishing around the country.
Source: VNS