VietNamNet Bridge – Two illegal logging cases were discovered in the central province's Dong Giang and Nam Giang districts in March, with 77 big trees chopped down.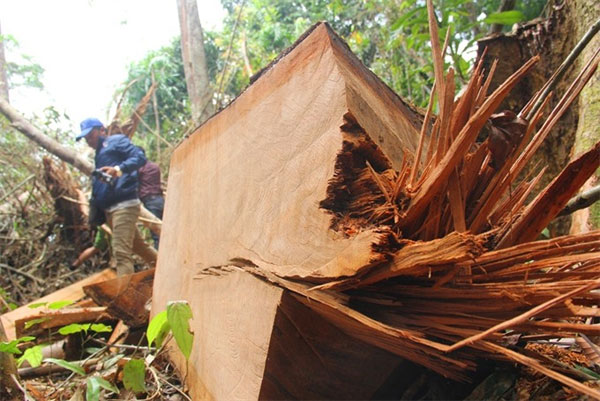 A big tree is illegally chopped down in a forest of Nam Giang District in Quang Nam Province. — Photo courtesy Quang Nam newspaper
Local rangers and the two protective forest management boards of Song Kon and Nam Song Bung claimed they were unaware of the cases until the public security agency began investigations.
The cases are part of a series of illegal logging violations in the province since last September, when 110ha of protected forest was illegally cut down in Tien Phuoc District's Tien Lanh Commune.
The provincial investigation teams said they found a path had been cleared for transporting logs from the forest and the illegal logging had been ongoing for months.
A field examination found more than 126cu.m of log were left by loggers, while more than 70 per cent of the chopped timber had been transported from the forest.
Vice Chairman of the province Le Tri Thanh admitted that insufficient administration and poor management in forest protection and patrol had resulted in forest devastations.
Thanh was blamed by the provincial Party Inspection Committee for his negligence on illegal logging cases in recent years.
The director of the protective forest management board of Song Kon, Ho Van Minh, confessed that irresponsibility in management and patrol was major reason that illegal loggers axed 33 big ironwood trees – a timber that loggers are banned from exploiting.
Thanh said the province will investigate the illegal logging cases and uncover suspected collusion among local rangers and illegal loggers, timber traders and buyers.
Head of the provincial forest protection sub-department Phan Tuan said local rangers have carried out 210 patrol trips in the forest, discovering 242 illegal logging cases and seizing 306cu.m of timber and 246kg of wild animal meat since early 2018.
Tuan said six illegal logging cases were prosecuted, while 20 other cases have been under investigation.
He said poor management of forest rangers and weak punishment were the main reasons for a series of forest clearings.
In an illegal logging case in Tien Phuoc last year, three loggers, who were arrested for felling 3ha of forest, were only fined VND700,000 (US$30) each.
Quang Nam Province has 425,000ha of forest, of which 388,000ha were primary forest, with an estimated 30 million cubic metres of timber.
In 2016, 60 rare and endangered Po Mu trees, a threatened species on the International Union of Conservation of Nature's Red List in 2006, were illegally cut for timber in Nam Giang District. Several officials in the district were punished for those illegal logging operations.
Source: VNS