VietNamNet Bridge - Many Vietnamese believe that eating wild animal meat on the first days of the lunar year will bring good luck.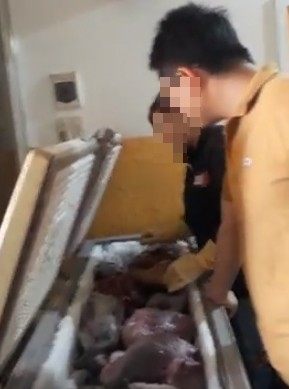 This year, the meat market during lunar new year was very busy, with many animals killed. 

N, 58 , in Ngoc Hoi district of Kon Tum province, managed to buy two kilos of wild boar meat to prepare meals for new-year parties.

"I heard that you will have a lucky year if you eat wild boar meat on the first days of lunar new year. The other types of wildlife meat are okay, but wild boar meat is the best," she explained, adding that she also bought 2 kilos of dried venison to prepare for her friends. 

P, the owner of a small house on Highway No 14 in Pleiku City, said Tet days are the high season for wildlife meat sales.


The cheapest was venison, VND200,000 per kilo, while the most expensive was live civet, VND2.5 million per kilo.
When reporters said they wanted to buy wildlife meat in large quantities, P said she could supply all kinds of meat. However, if customers wanted fresh civet, they needed to order two days in advance. 

The cheapest was venison, VND200,000 per kilo, while the most expensive was live civet, VND2.5 million per kilo.

To prove that the supply was unlimited, P led the reporters to the slaughterhouse, where tens of civets were slaughtered and put into packages. Her refrigerator was full of frozen wildlife meat, ready to be delivered to customers.

In Dak Lak province, wildlife meat can be easily found in restaurants. 

"We have all kinds of wildlife to satisfy you. All the animals are wild and alive," the owner of B.R Restaurant on Nguyen Thi Dinh street in Buon Ma Thuot City said, adding that he slaughters the animals in front of customers to show that the meals are made of '100 percent wild animals' . 

"In general, people don't eat varan and turtles on the first days of new year. But other kinds of meat will bring good luck," he said.

The man added that high-income earners favor pangolin meat, which is VND4 million per kilo. He told the reporters to come back after one or two days if they wanted pangolin meat.

"We will steam pangolin whole to ensure the high quality of the meal," he said. "No need to worry about the police. Our restaurant has been running since 2008."

Wildlife meat is also found at restaurants in Nha Trang City in Khanh Hoa province. A source said that wild animals were from the districts of Dien Khanh and Khanh Vinh, and that people mostly hunted animals in an area adjacent to Hon Ba Sanctuary.
RELATED NEWS
Vietnam gets strict on wildlife protection
Law on wildlife crimes takes effect, but enforcement still weak
Thien Nhien