VietNamNet Bridge – A year after a government decree on stringent punishment for environmental violations came into effect, its enforcement leaves a lot to be desired.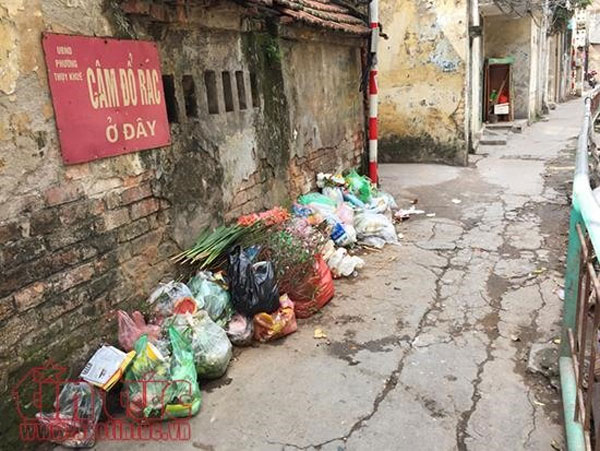 Garbage heaps mount along the wall, under the sign "No dumping trash here." — VNA/VNS Photo
Decree 155/2016/NĐ-CP was applicable from February 2017, which includes administrative fines at 10 times higher rates for "petty" demeanours than previously seen. Leaving trash on sidewalks, roads or in the drainage system invites a penalty of VND1-3 million (US$44-133) or as high as VND5-7 million—all high amounts considering the average income in Vietnam. Those caught urinating, defecating or spitting in public and littering the ground with cigarettes will also be issued heavy sanctions. 
Authorities of many localities in the capital city of Hanoi conducted large-scale campaigns, including going door to door to popularise the new environmental provisions as well as performing intensive crackdowns on violations.
A short time after the decree came into effect, most localities reported encouraging improvements in environmental protection. The positive results, however, were short-lived and the situation reverted to the "status quo" as the campaigns died down.
Currently, on Hanoi's streets, it is not hard to find mounds of garbage dumped in unauthorised places or to notice people carelessly discarding litter in public, Vietnam News Agency reported.
Alley 105 on Thuy Khue Street in Tay Ho (West Lake) District has been a "makeshift" market for years. Despite the convenience, it might bring to those seeking to quickly buy groceries, the residents here are upset about the mess and stench coming from the market.
Thu Ha, a local resident, said she was greeted by the distinctly unpleasant odour of fish stalls every morning when she leaves for work and the smell of oozing heaps of garbage every afternoon when she returns. The infamously polluted To Lich River beside the alley had residents on both sides throwing trash directly into the water, but no one had ever been sanctioned, Ha added.
Nguyen Hoa, currently living in the downtown district of Hoan Kiem, said she passed the Guinness-recognised "ceramic mural street" (along the Red River dyke wall) every day on her way to work, and she sometimes saw pedestrians and drivers stopping to relieve themselves on the murals.
"These are really offensive acts. I sometimes just want to take photos of the offenders and send them to the authorities. But really, by the time I stop, they would have finished already," Hoa complained.
Cigarette butts are strewn all over the grounds in parks, bus stations and hospitals – seemingly with impunity.
In HCM City, littering can also be observed on the streets of Nguyen Thi Minh Khai and Hai Ba Trung in District 1 or on Ha Noi Highway in District 2.
Many bus stations are located on this important road, but not all of them offer enough dustbins, so sanitary workers are unable to handle the excessive workload, remarked Le Thi Ha, a florist on the Ha Noi Highway.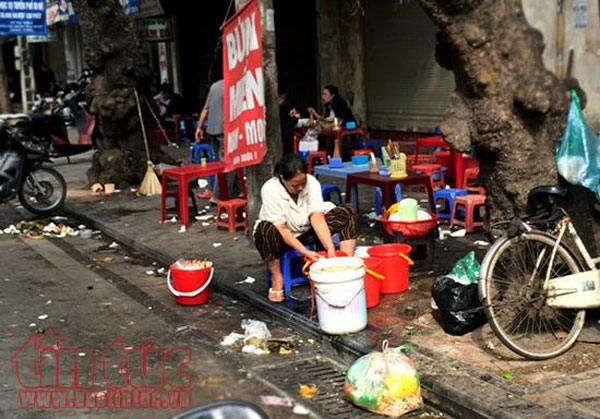 A street food stall in Hanoi polluting the sidewalk with wastewater and miscellaneous trash. — VNA/VNS Photo
Not easy to fine
Despite featuring very detailed levels of punishment for each violation, it is hard to enforce these penalties in reality, local authorities said. Le Trong Sy, vice chairman of Phan Chu Trinh Ward of Hoan Kiem District, blamed the situation on the excessive responsibilities being shouldered by local policemen and officials, despite these departments being understaffed. The understaffing issue is also shared by authorities in HCM City. According to a District 1 representative, currently each ward can only have one environment official, who oversees a large area with a dense population.
In addition, to issue fines, "caught-in-the-act" evidences or witnesses are needed, so actual instances of being able to attribute blame are rare.
"So far, the ward is able to fine households that take up public space to conduct a business, but we haven't been able to issue a fine to anyone committing the crime of littering or public urination," Sy said.
Truong Anh Tu, a lawyer registered with the Ha Noi bar, commented that the decree's rules have failed to "step outside the legal documents into real life" as low public awareness is an issue that cannot be resolved in a short time. He also pointed out some existing legal problems. For example, issuing high administrative fines (above VND1 million) are beyond a ward's jurisdiction. To issue fines of this amount or higher, ward-level police must submit reports to the district-level police, who then issue an official administrative fine document against the offenders. Even after completing these lengthy procedures, there is still no guarantee that the offender will willingly pay their fines. 
Source: VNS