Representatives of government agencies and businesses and experts discussed a proposal to hike the environment protection fees on industrial effluents at a meeting in HCM City on Thursday.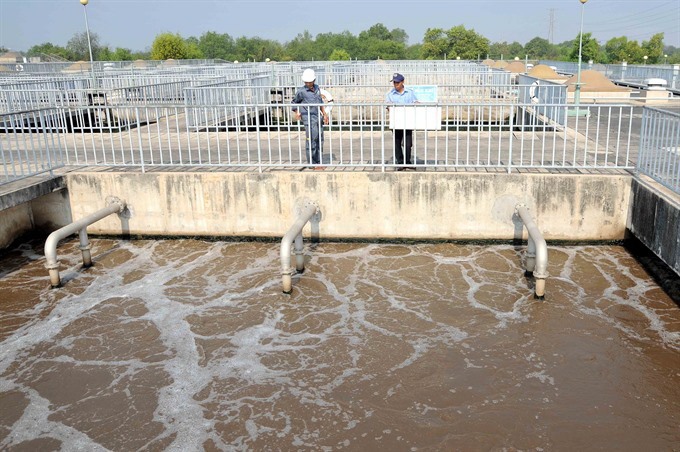 The Bình Hưng Wastewater Treatment Plant in HCM City. The city government is considering hiking the environmental protection fees for discharge of industrial wastewater.
The meeting, organised by the Việt Nam Fatherland Front, sought to collect feedback on the proposal.
Triệu Lê Khánh, vice chairwoman of the Việt Nam Fatherland Front's HCM City unit, said the environmental protection fee now charged is insufficient and so the committee drafted the proposal to hike it.
The move is also aimed at coaxing businesses into investing in wastewater treatment facilities and limit the discharge of pollutants into the environment.
Tống Hữu Châu, a member of the Front's council for environmental science and technology, said the draft had included more categories of businesses who need to pay the fee, including medical establishments.   
He warned that collecting the fee from medical establishments would increase the healthcare cost for the public.
Instead of hiking the fee, the city should impose serious sanctions and improve enforcement to deal with environmental violations, he said.
Đồng Văn Khiêm, a member of the council, proposed changing "industrial wastewater" to "toxic wastewater" to make more sense in terms of environmental protection.  
He also said it is necessary to expand the categories of entities liable to pay to include farm and garden house owners who discharge agricultural wastewater with pollutants exceeding permitted levels.
Wastewater from toilets in crowded residential areas and apartment buildings must also be included, he added.
Lê Đặng Trung, director of Thời Gian Thực Limited Company, called for a roadmap for raising the fee because the hike would affect businesses and consumers in terms of rising prices of products and services.
Trần Thanh Hồng, deputy general director of Tân Thuận Limited Company, said the draft focused on increasing the fees based only on the volume of wastewater discharged instead of the level of pollution in the water.
Some city People's Council members said educational institutions too must be subject to the fees since many schools have a large number of students and swimming pools which discharge a considerable amount of wastewater.
Tô Thị Bích Châu, chairwoman of the city unit of the Fatherland Front, said the proposal has attracted great public attention due to its possible impact on individuals and businesses.
The Front would continue to receive feedback and report to the People's Committee and other agencies for appropriate action, she said.
There are nearly 2,790 production establishments paying environmental protection fees of VNĐ8 billion ($350,000) a year and discharging 143,430 cubic metres of wastewater a day. — VNS