David Duong, president of California Waste Solutions and CEO of Vietnam Waste Solutions, was given the Oustanding Community Advocate Award by the Asian American Prosecutors Association at the end of 2017. Once again, the Vietnamese-American businessman has brought honour to Vietnamese expatriates all over the world.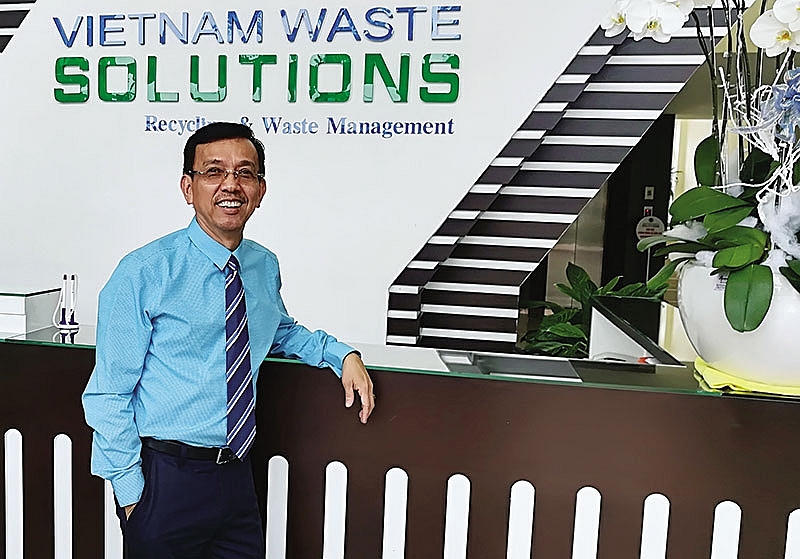 David Duong is a pioneer in the field of waste treatment in Vietnam
Great honour to the homeland
David Duong is a pioneer in the field of waste treatment in Vietnam. He invested in Vietnam Waste Solutions (VWS) in 2007, pushing modern facilities and advanced processing technology.
Most recently, the businessman became the first Vietnamese-American to receive the Oustanding Community Advocate Award by the Asian American Prosecutors Association (AAPA) in the US. AAPA is a professional organisation dedicated to promoting justice and to advancing the interests of prosecutors of Asian heritage.
The ceremony was held in California with the participation of law enforcement agencies, judges, prosecutors, businessmen, and attorneys of Asian heritage.
The ceremony also attracted representatives of the authorities of the state of California, honouring individuals who have made substantial contributions to the state's socio-economic development. David Duong was honoured as president and CEO of CWS and as chairman of the Vietnam Business Association in the US.
Duong moved to Oakland in 1986 and set up CWS in 1992, with 62 per cent of its staff made up of locals. "CWS has generated great employment opportunities for people in the area. Thus, we value his contribution to the community highly," said an AAPA representative. As chairman of the Vietnam Business Association in the US, Duong was recognised for his constant efforts to connect Vietnamese businesses in a variety of industries with local leaders to solve obstacles and problems in the course of business operations.
Investment for the homeland
Aside from large investment projects in the US, David Duong has expanded investment in Vietnam over the past 10 years. He has developed two large-scale waste treatment projects in his homeland, namely VWS' Da Phuoc Integrated Waste Management Facility (DPIWMF) worth $150 million, and Green Technology Park in the Mekong Delta province of Long An with total investment capital of $1 billion.
The Da Phuoc Integrated Waste Management Facility in Ho Chi Minh City's Binh Chanh district has created jobs for hundreds of locals, while contributing billions of dong [VND1 billion is euqal to $45,454] to the state budget. Da Phuoc is a modern waste treatment facility with a processing capacity of 10,000 tonnes of waste per day. Waste is not just buried in landfills, but it is also used to produce compost. Meanwhile, leachate is treated to become clean water for safe use. As the city has discharged an increasing amount of waste daily, this has forced waste treatment companies like VWS to upgrade their technology.
"We have invited experts from the US to evaluate our projects. This, coupled with our extensive experience in waste treatment, helps the firm to identify and classify waste materials. Based on the results, we have studied and selected suitable technology for the city to convert waste emissions into power and compressed natural gas (CNG) for transport use as well as producing micro and organic fertilisers," he said.
To facilitate Ho Chi Minh City's collection of waste in a safe and timely manner, CWS has bought two garbage trucks from the US with specialised designs for conditions in Vietnam. Specifically, there are shields around the trucks to avoid collisions with motorcycles. The trucks are also equipped with sprays to spread pleasant scents in the city's polluted environment. Some parts are specifically designed to meet the transport conditions in Ho Chi Minh City.
"We set a target of reducing the amount of waste buried in landfills to 15 per cent, in accordance with the government's waste treatment master plan," Duong stressed.
According to the requests by municipal authorities, VWS has mapped out a plan to transform DPIWMF from a landfill to a waste-to-energy approach. Specifically, VWS has proposed a $400 million incineration factory with a capacity of 1,000 to 2,000 tonnes of waste per day.
The city requested technology with a long performance lifespan, in line with the city's development conditions. Waste treatment technology also has to help protect the environment in the long term.
Furthermore, VWS will develop Green Technology Park in Thu Thua district of Long An province. Covering 1,760 hectares, the park is lotus-shaped when viewed from above. It boasts an educational centre focused on protecting the surrounding environment, like the network of canals, greenery, and foliage.
The park has an estimated capital of $1 billion for 20 years of development. In the first phase, VWS will inject $500 million into the project with a daily capacity of 20,000 tonnes of waste. Once completed, the project will be capable of handling 40,000 tonnes of waste per day. It will process different types of waste, including household waste, hazardous waste, medical waste, industrial waste, electronic waste, sewage, and old tires.
Applying the latest technology from the US, the facility has a closed system consisting of landfills, a high-tech sewage treatment facility, a compost fertilizer factory, and a waste-to-power plant. The complex also has an administrative centre, uses green energy, and has facilities to convert waste into fluid and CNG.
Once fully completed, the complex is expected to meet the demand of waste treatment for Long An, Ho Chi Minh City, and the southern key economic zone. The complex will create employment for 8,000 to 10,000 workers.
VWS shares with the community David Duong, president and CEO of VWS, and Huynh Thi Lan Phuong, vice president of VWS, have recently granted VND1 billion ($45,600) to the Sponsoring Association for Poor Patients in Ho Chi Minh City at Nguyen Trai hospital. 
The donation will sponsor eye surgeries for 100 poor patients, in particular those in need of cataract surgery in the provinces of Binh Thuan, Dong Thap, and Ca Mau. 
It also sponsors 25 heart surgeries for disadvantaged patients in critical condition. Speaking at the ceremony, David Duong said, "VWS is committed to contributing to the homeland. Aside from business activities, VWS is also involved in many corporate social responsibility (CSR) programmes. In particular, we have helped many poor patients who need eye surgery to cure their blindness. The company has run this programme for years with annual surgery costs of VND100 million ($4,500)." 
"When we visited a paediatric clinic sponsored by the association a few weeks ago, we saw some critical cases in need of surgery. Therefore, I decided to support the association to help the patients. In fact, many disadvantaged people need support from the community and businesses," he said. 
Moreover, VWS has set up a sponsoring fund for the community with a donation of VND1 billion ($45,600). The fund has helped many people to get loans to improve their livelihoods. VWS has also been active in CSR activities in both Ho Chi Minh City and Long An.
VIR