VietNamNet Bridge – Despite advancements in technology, weather forecasters around the world struggle to predict the intensity of emerging storms.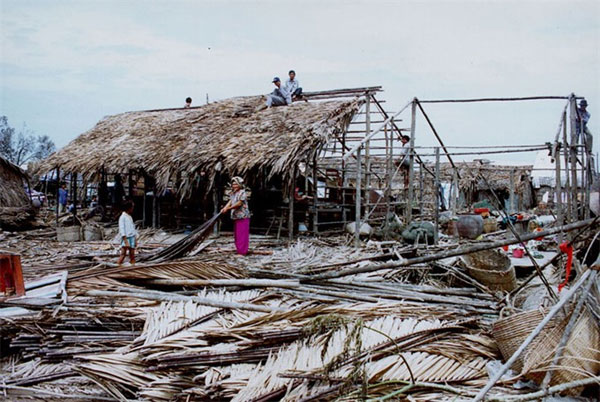 Houses in Giang Hao Township in southern Bac Lieu Province damaged by the tropical storm Linda in 1997. Linda was considered one of the strongest storms to ever hit Vietnam. — VNA/VNS Photo Xuan Truong
Only factors like timing, the relative path and the landing site of a typhoon have been predicted relatively accurately.
In the case of Vietnam, a country that was hit with 16 typhoons in 2017 alone and is predicted to be among the countries most impacted by climate change, the failure to accurately gauge the power of storms might lead to devastating consequences – both in terms of human lives and economic damage.
The consensus on the need to enhance weather forecast capacity by embracing new technologies was reached yesterday in a technical forum held by the Typhoon Committee in Hanoi.
The conference was an opportunity for weather forecast experts from around the world to share experiences and best practices in analysis and predicting extreme weather events, including typhoon, flooding, drought, salt intrusion and high tides – phenomena Vietnam has been familiar with throughout its history, but which many have said are developing unpredictably in recent times.
The latest technologies from countries with advanced capacity were introduced and shared in the conference, such as remote sensing or network monitoring. Technological methods to assess the impacts of climate on certain sectors as well as measures to adapt were also discussed.
Raymond Tanabe, director for the Pacific Region of the US National Weather Service, currently serving as a head advisor for the committee, stressed the importance of ensuring that the information could be reached by as many people as possible – especially via popular social media platforms like Facebook or Instagram.
At the conference, representatives from Vietnamese weather forecasting agencies have outlined strategies for the 2018, which would see more investment into a new system of supercomputers as well as upgrading its information networks to handle a large amount of data gathered from satellites.
Tran Hong Thai, deputy director-general of the National Hydro-Meteorological Service of Vietnam, said that weather forecast is indeed a "cross-border issue," and international co-operation with other countries in the Southeast Asia region would also be prioritised.
"Vietnam has been an active participant, not only in the sense of learning from others' experience, but also we have been sharing our data with other countries, all in an effort to deliver better forecasting results," he added.
The conference was held along with other activities to commemorate the 50th anniversary of the committee, for which Vietnam is currently holding the presidential chair.
The committee was established in 1968 under the sponsorship of the United Nations Economic and Social Commission for Asia and the Pacific (UN-ESCAP). It currently has 14 member countries. 
Source: VNS