VietNamNet Bridge – In a major shift in perspective, the Government is viewing small scale projects as the best, most sustainable way of tapping the nation's hydropower potential.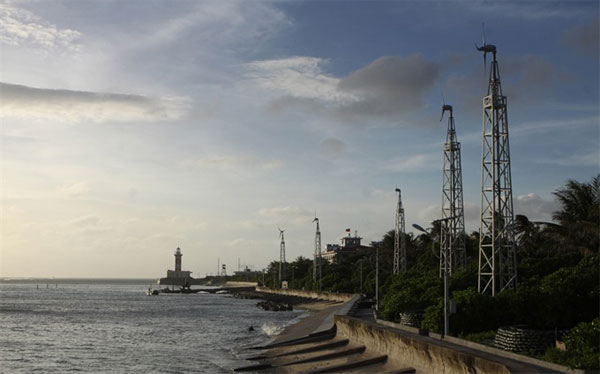 Wind turbines on the Nam Yet (Namyit) island of Vietnam's Truong Sa (Spratly) archipelago. The use of wind and solar energy on the island localities help to reduce dependency on diesel, which in turn, helps cut back pollution. — VNA/VNS Photo Duong Giang
The shift comes in the wake of years of deleterious social, environmental and economic impacts of many large projects in many areas of the country, particularly in worsening the devastation wrought by natural disasters like storms and floods.
The national power development plan emphasises the intent of the Government on making the most of the country's hydropower potential, saying it plays a critical role in ensuring energy security. It now recognises small-scale hydroelectricity projects as the most financially and economically viable options.
Hoang Quoc Vuong, Deputy Minister of the Ministry of Industry and Trade (MoIT), said hydropower accounted for 40 per cent of country's total electricity output in 2016 and 2017. In provinces where major hydropower projects are based, like Hoa Binh, Son La in the north, and Central Highlands provinces like Gia Lai and Kon Tum, the plants contribute a major part to the local revenues, he noted.
The ministry has set a goal of reaching 21,600 MW in installed capacity of hydropower plants by 2020, which will rise to 24,600 MW by 2025 and 27,800MW by 2030. This is considered to be the 'cap' to how much Vietnam can squeeze out of available technology without sever social and environment disruptions, though the maximum potential is estimated at some 35,000MW.
A "hydropower rush" in the 2010-2014 five-year period saw a boom in small and medium-sized hydropower plants,  but these projects also had severe negative environmental impacts and a host of other problems including conflicts with other development plans (irrigation, traffic, tourism), inefficient operations, lax observation of technical guidelines and improper handling of water discharge.
Do Duc Quan, deputy head of the Renewable Energy Department under the General Directorate of Energy, said it is planned that the contribution of small and medium scale hydropower projects to the national grid will increase to 7 and 10 per cent respectively by 2020 and 2030.
He also said inspections and reviews of all existing hydropower plants must be properly conducted, as stated in National Assembly's Resolution 62/QH13 and Government's Resolution 11/NQ-CP on planning and investment for hydropower projects (towards 2050).
Quan said that after inspections, any hydropower project in the mountainous areas of the country – Central Highlands region, Northeastern area, and mid-Central Vietnam – that is found to have substantial impacts on forest land will be suspended indefinitely.
The MoIT, in collaboration with provincial People's Committees, has reviewed and removed 468 projects and 'potential hydropower sites' out of development plans for their adverse impacts on the environment.
Currently, there are 316 hydropower projects that have been approved and included in the master plan, but work has not begun on them. These are most mostly small-scale projects that the MoIT is finding ways to facilitate.
Lessons learnt?
The ministry is of the view that private investors have shown that they have gained experience in building small-scale hydropower projects. It feels that this is an important factor (in limiting negative social and environmental impacts in the future.)
In addition, the Vietnamese economy has witnessed a stable and steady growth in recent times, which would make it easier for investors to mobilise capital for implementing projects. Some small-scale hydropower projects have already received loans at preferential rates from the World Bank.
Experts have also called for a policy that will funnel taxes contributed by hydropower plants to projects that improve socio-economic conditions and develop infrastructure for affected communities.
Nguyen Van Vy, Vice Chairman of Viet Nam Energy Association (VEA), wanted checks on both the planning of hydropower projects and the planning for reservoirs located on river basins, saying this was needed to ensure efficient use of water resources.
Vy also stressed the need to have a clearly defined co-ordination mechanism amongst relevant State agencies as well as central and local governments to avoid overlapping.
It must be a very strictly enforced condition that hydropower projects that are required to replant cleared forests do not use natural forestland for other purposes, he added.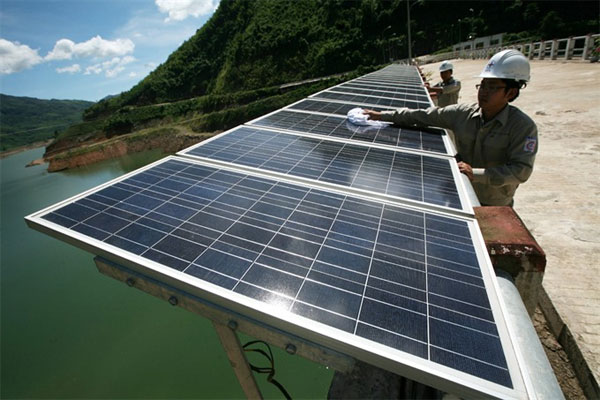 A system of solar panel used as backup source of power for the operation of A Vuong hydropower plant in the central province of Quang Nam. — VNA/VNS Photo Ngoc Ha
Renewable energy
According to Vietnam's Revised National Power Development Plan VII (for the 2011-2020 period, with vision until 2030) approved by the Government, the State-owned utility, Electricity of Vietnam (EVN) will still be the 'main supplier,' or the undertaker of large-scale power projects.
It also says that apart from the focus on small- and medium-sized hydropower projects, other 'green' energy projects (solar and wind) will receive heavier attention, increase their proportion of national energy production to five per cent by 2020 and 11 per cent by 2050, as per a recent resolution by the Politburo.
According to the national plan, to take advantage of the significant 2,000-2,500 average hours of sunlight a year, several solar power plants (connected to the national power grid) will be built on high-potential locations across the Central Highlands, southern part of the Central Region and the Southern Region.
'Floating' solar power plants that take advantages of the reservoir's 'unused' water surface in hydropower plant projects – for example, the 47MW Da Mi project in Binh Thuan Province, will also receive priority.
It is estimated that, with its long coastline, Vietnam's potential for wind energy can reach 40-50,000MW, or as high as 100,000MW, if offshore wind power potential is also considered.
Other forms of energy are also being studied, such as the country's theoretically huge potential for geothermal power, which could reach as much as 300MW (distributed mostly in the Central Region), or biomass energy which could take advantage of the massive amount of agriculture waste (bagasse, husk, and livestock waste) and other organic urban waste of 150 million tonnes that the country generates some each year.
Nguyen Anh Tuan, Director of the Renewable Energy Centre (Institute of Energy), said that despite their huge potential, renewable energy projects have not really taken off due to lack of detailed planning and lack of measures to 'stabilise' the constantly varying input, namely, solar radiation or wind.
Authorities in BinhThuan Province, deemed the hub of renewable energy for its high solar and wind power potential, are actively calling for investment from both domestic and foreign investors for a growing list of energy projects. But they also say that the State's preferential policies have not been enough to attract investors.
The hold up in renewable energy development can also be blamed on the small-scale nature of most projects, which would allow for cost efficiency, given how they have to compete with traditional energy production to be commercially viable, according to VEA Vice Chairman Vy.
Vy also pointed to the need for better human resources development for renewable energy, saying universities and colleges in the country are not offering in-depth courses in the subject.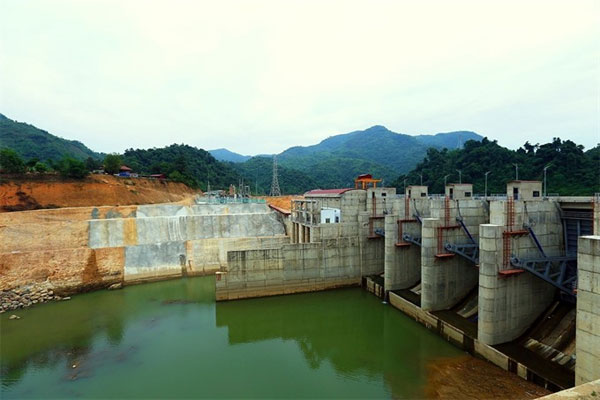 An overview of Nam Nua hydropower plant, a small-scaled hydroelectricity project located in the northern mountainous province of Dien Bien. — VNA/VNS Photo Ngoc Ha
Technology upgrade
Vietnam recognises the urgency of using science and technology to drive sustainable development of renewable energy, helping fuel the country's fast-growing economy, said Deputy Minister of Science and Technology, Tran VanTung.
He said mastering energy production technology and localizing it to reduce dependency on imports were two factors that could keep the price of renewable energy at reasonable levels while achieving maximum efficiency.
He further said that in implementation its science and technology development strategy, the ministry would focus on domestic production of machinery and equipment for medium and large-sized hydropower plants.
As per the ministry's programme KC.05/16-20 on new energy, the top tasks for 2018 and 2019 will be research and study of application of renewable energy (including wind, biomass energy, biofuel) and other new forms of energy. A comprehensive national database of renewable energy will also be established.
The programme also puts forward a range of measures to reduce costs while increasing efficiency in production, transmission and consumption of energy – with two pilot projects being carried out to cut polluting emissions from thermal power plants. 
Source: VNS