VietNamNet Bridge - Le Nguyen Thien Huong, the founder and coordinator of Save Sơn Doong organisation (#SaveSonDoong), which protects the pristine beauty of the largest known cave in the world, has been listed on Forbes Vietnam's '30 Under 30' list.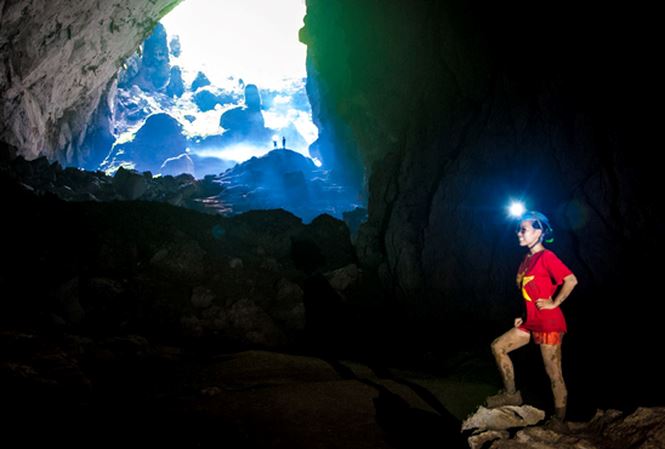 Le Nguyen Thien Huong
Huong said she was moved when hearing the recognition. "This will help spread the #SaveSonDoong message to more people. It is a nice surprise that an environment campaign like #SaveSonDoong could be recognized by a prestigious journal like Forbes". 

She said the title "30 Under 30" honors individuals, but #SaveSonDoong is implemented by a team of seven key members and the entire community.

Besides a full-time job at Fulbright University, you spend most of your time and endlessly endeavor on the environmental campaign of which you are a co-founder. What do bring you to the work?

When I was a primary school student, I liked reading 'The Nobita's Underground World' in the Doraemon series. When I was a secondary school student, I read 'Journey to the Center of the Earth'. As a high school student, I was the Vietnamese representative attending the WWF-funded training course on wildlife in South Africa and I had opportunities to go to the forests. 

After the trip, I realized that I belong to desolate areas. So, soon after hearing about the discovery of Son Doong, I began saving money and preparing my physical health before the trekking tour to Son Doong.

Do your colleagues call you 'cavegirl'?

I really like the nickname. I love working here (FUV) because my efforts with #SaveSonDoong can be recognized and supported.

Actually, since the day I started #SaveSonDoong, nothing has been more important to me than Son Doong. If I die, people will forget who I am. But Son Doong must be there. #SaveSonDoong is the mission of my life.

I have heard that you have a 'mini cave' at your corner in the office. Could you please tell about it?

I want to be undisturbed in mind. My office is crowded. So I decided to 'build' a mini cave under my desk where I can stay to concentrate on my work. My colleagues respect my private place.

You were a mathematics teacher, graphic designer, piano teacher. And now you work for FUV, run #SaveSonDoong and can cook very well. Which job do you love the most?

Actually I concentrate on my two main jobs at FUV and  #SaveSonDoong. In the past, I taught English under an education program for deaf people called Hear.Us.Now where I am now an advisor. The jobs have close relations. Environmental protection means 'growing trees', while education means 'growing people'.
RELATED NEWS
Russian paper hails Son Doong Cave as lost world underground
Maximum of 900 guests allowed to visit Son Doong in 2018
Thanh Mai