The Ministry of Natural Resources and Environment threatens to shut down factories found polluting Nhue and Day rivers in Ha Nam Province.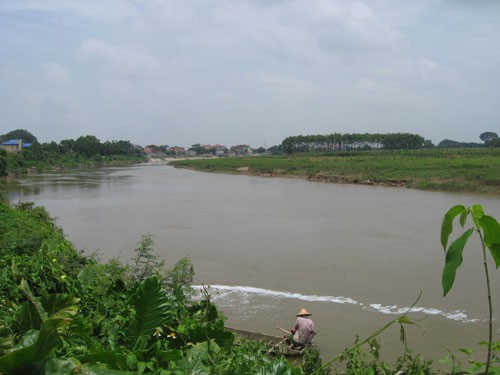 Day River in Ha Nam Province
The population density has increased sharply along Nhue and Day rivers. As a result, the amount of rubbish discharged into these rivers has also increased. 
In addition, rapid urbanisation means more and more companies and factories have been set up there and pollute the water.
In recent months, Nhue, Chau Giang and Duy Tien rivers have seen severely pollution. River waters have become blackish and bubble with thick, white foam. The pollution became more evident when the water level in Nhue River was low in the dry season.
The Ministry of Natural Resources and Environment said authorities at all levels, corporations and the public must work together to monitor and deal with the pollution. 
Industrial zones will be mandated to build waste-treatment system and violating factories will be shut down. 
Manufacturing facilities will be instructed to relocate out of residential areas and river dredging and waste treatment projects will be sped up.
Ha Nam provincial authorities were asked to halt all activities that use the polluted water, find a clean source of agriculture water for the Spring and Winter crops, publicise the results of monitoring and strictly punish violators.
The ministry has also requested Hanoi authorities to help clean Nhue River with water from the Red River.
Dtinews