VietNamNet Bridge – Water experts in Vietnam have suggested re-using waste water to help protect vital resources. As untreated waste water is discharged directly into the environment, both surface water and underground water resources face high risk of either running out or becoming too polluted to drink.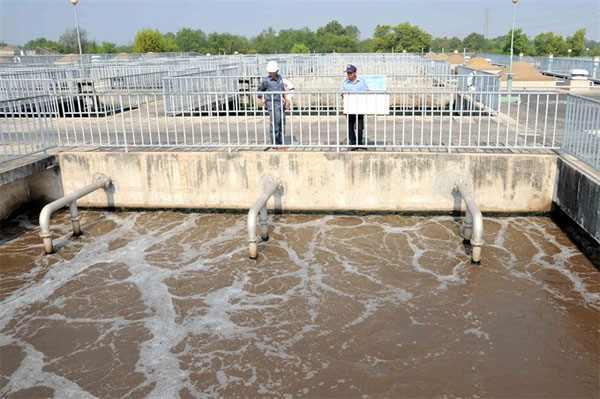 A wastewater treatment system at the Binh Hung Wastewater Treatment Plant in HCM City. Few industrial zones in Vietnam have sustainable waste-water treatment solutions, according to the Ministry of Environment and Natural Resources. — VNA/VNS Photo An Hieu
Water reserves in Vietnam have fallen sharply in the last two decades. The average consumption of water per person was 12,800cu.m in 1990. It dropped to 9,000cu.m per person in 2015 and is likely to fall to 3,000cu.m in 2025.
Dao Trong Tu, director of the Centre for Sustainable Development of Water Resources and Adaptation to Climate Change, said that a quickly growing population and more economic activities required more water. However, this had also led to more polluted waste-water being generated.
According to statistics from the Ministry of Natural Resources and Environment, there are more than 200 industrial zones in Vietnam, but few have sustainable waste-water treatment solutions.
More than one million cubic metres of waste water is generated daily in industrial zones, but 75 per cent is left untreated and discharged straight into the environment.
This has created an urgent need for waste-water treatment solutions. If waste-water is treated properly, it can be re-used and become an additional water source for human consumption and industrial or farm use.
However, Tu said that for too long, Vietnam had not paid proper attention to re-using waste water because it was believed to be rich in water sources.
There used to be a conception that it was unnecessary to re-use waste water.
However, recycling water required big investment, which was a major barrier for investors examining waste-water treatment projects, Tu said.
Meanwhile, the Government has developed few policies or incentives to encourage investors to invest in these projects.
Experts said that in order to curb environmental pollution caused by untreated waste water as well as to promote the use of treated waste water, the Government and businesses should pay more attention to developing waste-water treatment and re-use.
Head of the ministry's Department of Water Resource Management, Hoang Van Bay, said stricter punishments, including criminal charges, should be handed out to those who polluted water resources. He also said it was necessary to develop mechanisms between water use and waste-water treatment.
He suggested industrial water users should be asked to pay money up front to those appointed to treat their waste water.
The Government is seeking tailored solutions to develop guidelines and strategies to better manage the country's water resources.
A workshop on the subject, co-organised by the Ministry of Natural Resources and Environment and World Bank on February 6, heard about major difficulties that the Government had in managing water resourses.
Speaking at the workshop, Deputy Minister of Natural Resources and Environment Tran Quy Kien, said the country had many water-related problems including higher water demand for socio-economic development and degraded water resources.
Surface water sources, such as rivers, lakes and ponds in almost all urban areas, industrial zones and trade villages, were said to be polluted.
The construction of hydropower plants in upper parts of rivers created negative impacts on the downstreams, Kien said, pointing to more severe droughts and salt water intrusion in the Mekong Delta region.
Vietnam also found it difficult to manage rivers that run through several nations. For examples, the Hong (Red) River flows from Yunnan in Southwest China through northern Vietnam to the Gulf of Tonkin.
From the Tibetan Plateau, the Mekong River runs through China's Yunnan Province, Myanmar, Laos, Thailand, Cambodia, and Vietnam.
The Krong Po Ko River and Dak Kro River in the Central Highlands region lie in both Vietnam and Cambodia. And the Ky Cung River starts in the northern province of Lang Son and flows into China.
Nguyen Thu Phuong from the ministry's Water Resources Management Department added that as an impact of climate change, rising sea water levels caused more floods and salt water intrusion in coastal areas.
"Millions of hectares of coastal land are inundated, hundreds of hectares of mangrove forests are already lost and the wetland ecosystem is affected strongly," Phuong said.
Le Hung Nam, head of Water Resources Management and Clean Water, said that the shortage of water in rivers, especially during the dry season, forced irrigation works to operate under their design capacity. And lower water river levels in major rivers forced pumping stations to halt operations.
Portfolio & Operations Manager of the World Bank Viet Nam, Achim Fock, said that one of challenges in managing water resources in Vietnam was the management of the whole water circle to optimise benefits, to ensure quality of water as well as enough water for rural areas.
Trieu Duc Huy, deputy director of the National Centre for Water Resources Planning and Investigation, said that synchronous measures were needed to improve water resources management, including those to improve the legal framework.
Huy also spoke of the need to strengthen international co-operation, implement scientific and technology applications in water management as well as improve public awareness in saving water. 
Source: VNS