VietNamNet Bridge –  Madelon Willemsen, head of the Vietnam office of the wildlife trade monitoring network TRAFFIC, said that the wildlife-related tourism activities that have been popular in the country for decades, such as elephant riding, souvenirs made of wild animal parts, the consumption of  bear bile and dishes cooked with wild animal meats, need a radical rethinking.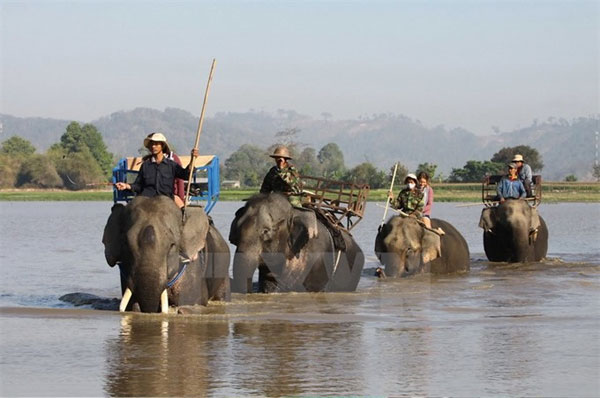 Tourists ride elephants in Central Highlands Province of Dak Lak. Elephant riding will be banned as of 2018. - VNA/VNS Photo
When the 2015 version of the Vietnam's Penal Code takes effect on the first day of 2018, tourism businesses operating programmes that exploit wildlife could be charged with new offenses, she said at a conference for sustainable tourism development held in Hue City on Wednesday.
"The charge will not only result in penalties but also harm the business's reputation. Certainly, no one could develop sustainably with negative comments from customers," Willemsen said.
Le Thi Minh Anh from the Viet Nam Environment Administration added that tourism businesses, such as hotels, would face environmental criminal charges for activities that in the past they considered totally unremarkable.
"The use of invasive species like red-eared sliders or common water hyacinth for ornamental purposes in hotels, for instance, will earn the hotels a fine from VND1billion to VND5billion and a short-term operational halt," Anh said.
She added that the consumption of wild animals and endangered plants would yield a much higher fine and a permanent halt to operations.
Anh said tourism businesses must set up procedures for managing operational hazards and tourism infrastructure construction as well as build up environmental protection plans for every tourism project.
Environmental protection encouraged
Willemsen and Anh were among many speakers to urge tourist firms to focus on environmental protection for the good of the natural world and for business benefits.
"The environment creates the basis for tourism as many travelers seek out unique features of nature. And environmental disasters have negative impacts on the development of tourism," said Anh, encouraging businesses in the sector to contribute to environmental protection in general.
Anh noted the disaster created by the Formosa toxic spill in April last year had hurt tourism in the affected provinces of Ha Tinh, Quang Binh, Quang Tri and Thua Thien- Hue for months.
Nguyen Dien, deputy director of the Viet Nam Chamber of Commerce and Industry in Da Nang said the percentage of visitors who never return to Vietnam—currently 70 per cent—would increase unless the tourism sector improves. One necessary improvement is to raise awareness about environmental protection.
"The businesses must cut off their wildlife consumption to reduce the exploitation of the nature from others. At the same time, they should be aware of environmental protection for sustainable development in general," he said.
Nguyen Van Phuc, deputy director of Thua Thien-Hue Department of Tourism said the department focuses on environmental protection in the sector's growth plans for the next year. 
Source: VNS