VietNamNet Bridge – With tonnes of waste discarded directly into fields, lakes and ponds or dumped on roadsides for years, the northern province of Vinh Phuc has a serious pollution problem.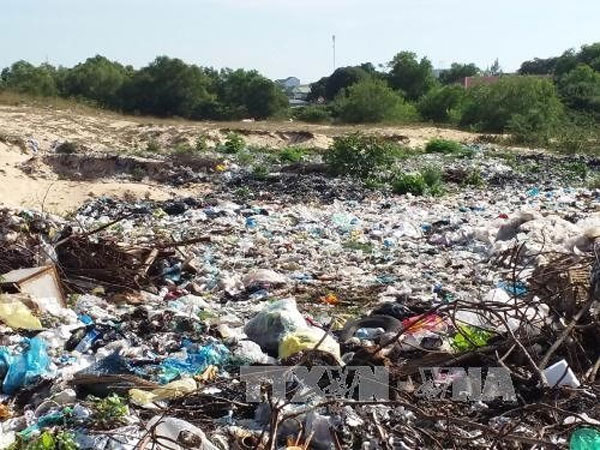 Over 650 tones of rubbish are discharged every day in Vinh Phuc's rural area. 
Provincial reports say that Vinh Yen City and Phuc Yen Town alone generate 180 tonnes of domestic waste a day, and 90 per cent of it is buried at temporary dumping sites.
Adding to the domestic waste is industrial waste, waste from animal husbandry and waste generated by handicraft villages, which means pollution has become a problem in rural areas, too.
According to provincial statistics, the whole province generates about 186,000 tonnes of industrial solid waste every year, 21,000 tonnes of which is hazardous waste.
Meanwhile, over 650 tonnes of rubbish are discharged every day in the province's rural areas, of which 30 per cent is not collected and the remainder is buried or burned, causing more contamination.
There are about 300 landfills in the province's rural areas, covering an area of 300 to 2,000sq.m each, and all of these are overflowing.
The province is finding it difficult to expand landfills because there's limited land and a lot of opposition from locals who don't want to live near dumping sites.
Without local landfills, residents have to collect and gather waste before transporting it to landfills in Vinh Yen City and Phuc Yen Town for treatment.
However, these two localities that receive and treat waste for the whole province are not able to manage the volumes. The localities use many incinerators, but they are not run efficiently, leading to huge amounts of untreated waste.
Sometimes residents burn waste themselves, which worsens air pollution, said Nguyen Van Thang, vice chairman of the People's Committee of Chan Hung Commune.
"We are well aware of the problem, but can't provide residents with any alternative solution since we don't have the resources to build high-capacity incinerators," he said.  
Meanwhile, all rivers in the province are being polluted by wastewater discharged by households and craft villages.
Tests show that the water quality in lakes and rivers like Phan, Ca Lo and Dam Vac has deteriorated, with some suffering serious contamination.
A decade or so ago, rivers and ponds were clean enough for residents to catch shrimps and fish, and even go swimming.
But rapid urbanisation has led to locals residing along rivers discharging large quantities of untreated waste into them, seriously polluting their waters. Plastic bags full of rotting trash have piled up and spread onto roads, rivers and ponds.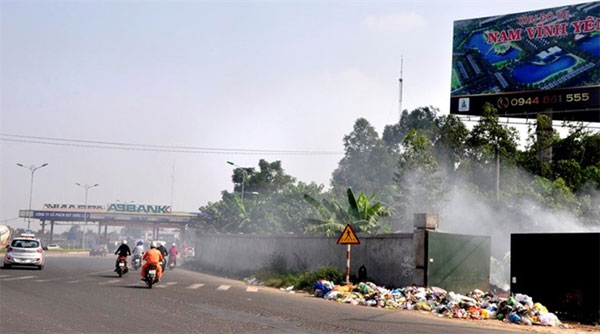 A corner of a road in Vinh Phuc Province becomes a dumping site. — Photo baovinhphuc.com.vn
Many areas on national highways, provincial roads and rural roads have become dumping sites.
For many years, both sides of the National Highway No 2 section passing through Tan Tien and Yen Lap communes in Vinh Tuong District have been turned into a landfill for nearby villages.
According to the Phuc Yen Urban Public Works and Environment Joint Stock Company, it has a 1ha dump located in Xuan Hoa Ward, but it is full.
At a recent meeting of the provincial People's Council, deputies raised concerns about the heaps of waste polluting the environment and affecting the lives of locals.
The provincial Department of Agriculture and Rural Development has installed a system of nets on irrigation canals to prevent rubbish from flowing into fields, but pollution of water resources has continued.
As of 2016, the province had 25 units collecting and treating industrial waste licensed by competent agencies, but they only collect from big establishments. The waste created by small companies still goes untreated.
Officials say that relevant agencies are working together to build a concentrated waste treatment plant with incineration technology. The province has set a target of having all industrial zones and guild villages have standard wastewater treatment by 2025. It envisions that by then all of the waste generated in cities and towns and 80 per cent of the waste in rural areas will be treated. 
VNS