VietNamNet Bridge – Nearly 70 per cent of a newly grown protective forest and a large area of Cua Dai Beach have been washed away by large waves, intense rains and a higher sea level since last year.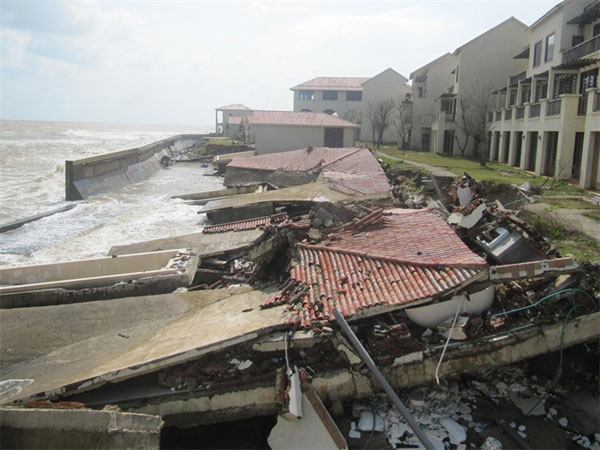 A beach resort building in Hoi An is eroded by sea water.
Head of the city's natural resources and environment office Nguyen Van Hien told Viet Nam News last week that 3ha out of 4.35ha of casuarinas forest have completely eroded, while waves are still smashing into a sea dyke system of Vinpearl Hoi An Resort and Villas.
"We have yet to find an effective solution to curb beach and protective forest erosion. Waves are rising higher and stronger and damaging barriers," Hien said. "Sandbags and protective measures had been set up to ease erosion, but they can only help a little."
Meanwhile, a pristine stretch of sand spanning from An Bang Beach to Cua Dai Beach – a favourite beach of foreign tourists in Hoi An – has gradually disappeared with each passing day.
"I had to walk 100m down the beach to get to the water last year, but now waves are splashing on my feet and uprooted the casuarina forest. Every thing went down to water, while waves carried in rubbish to cover the beach," said Nguyen Van Tai, a resident of Cua Dai Ward. "Big waves with hard rain and strong wind in recent days approached closer to the coastal Cua Dai road during the high tide at night."
He said an area of beach 2km long and 200m wide has eroded in three months during an unusually severe rainy season.
A section of an 1,100m Geotube sandbag dyke on Cua Dai Beach, between Palm Garden Resort and Agribank Hoi An Resort, was broken by rising sea water and waves since early this week (from October 28th).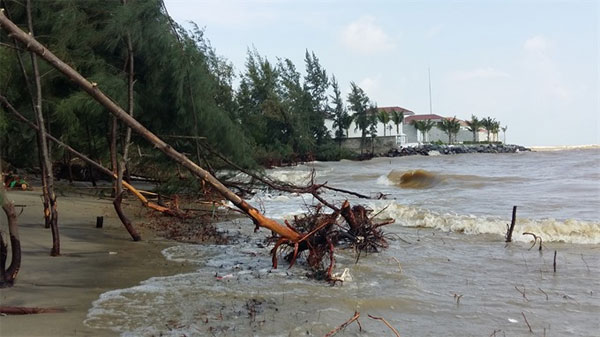 Rising sea water and tidal waves damage a small casuarina forest near Vinpearl Hoi An Resort and Villa on Cua Dai Beach near Hoi An City. — VNS Photos Cong Thanh
According to the latest report from Hoi An City, more than 20ha beach washed away between 2009-14.
Last year, an area of 4,000sq.m of Cua Dai Beach, 5km from Hoi An City's ancient town, disappeared after a series of tropical low pressure storms and heavy downpours hit the central coastal region. 
Despite the construction of a 1,100m Geotube sandbag dyke, positioned under the water 60m off the beach, big waves still crash onto the beach and wash the sand away between November and April.
Nearly VND200 billion (US$8 million) was used to build sea dykes or temporary embankments with bamboo and sandbags, as well as the Geotube sandbag in protection of the beach.
The city and the Agency for Development of France (AFD) agreed to conduct a survey of beach nourishment as a sustainable and effective protection of Cua Dai Beach with an investment of 136,000 euro ($327,000), but it will not begin until 2018.
An expert from Hoi An City blamed the erosion on the construction of resorts on the beach and the lack of proper environmental assessments before dredging the estuary. Construction of hydropower plants on the upstream Thu Bon River and the over-exploitation of sand were believed to have caused the shortage of muddy sand.
The city has been calling for investment in replanting 140ha of nipa palm (a species of palm native to the coastlines) along the Thu Bon River to reduce sand erosion in Cua Dai Beach.
French-Vietnamese architect Bui Kien Quoc, who lives in Hoi An, predicted erosion would hit An Bang Beach, 2km away from Cua Dai Beach, within the next few years.
The Cua Dai Beach area witnesses sea encroachment of 50-200m annually. 
Source: VNS