VietNamNet Bridge – Though illegal sand mining is rampant in the Bay Nui (Seven Mountains) area in the Mekong province of An Giang, provincial authorities said they are unable to catch any of the miners red-handed.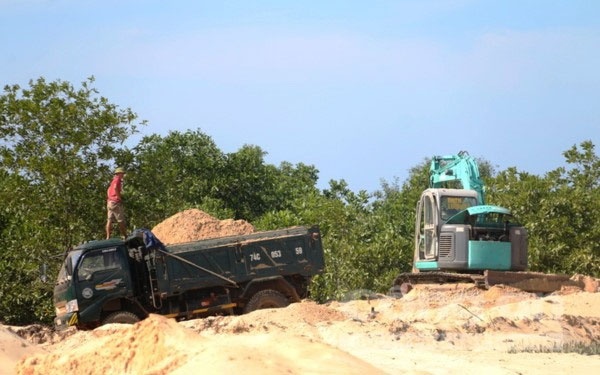 Illegal sand mining is rampant at the foot of Bay Nui Mountain in An Giang Province. — VNS File Photo
On October 27 in An Giang Province, a 7,000sq.m pit was found at the foot of Ngoạ Long Son Mountain and four men were shovelling sand from the pit into a truck in plain public view.
The vehicle later went to Ba Chuc Town in Tri Ton District behind an escorting truck.
In the town, many other trucks could be seen carrying sand for selling to construction sites in the district. Authorities have clarified they have not issued a single licence to mine sand in the area.
Tuoi Tre (Youth) newspaper reported that 10 illegal sand mines with a total area of some 50,000sq.m were found at the foot of Ngoa Long Son Mountain.
The three biggest are near the monument of the National Liberation Front of An Giang Province in Tri Ton District. They measure 25,000sq.m and are 10 metres deep.
The illegal miners have in fact put up sentry boxes along the road leading to the mining sites.
At one of three illegal mines, two large excavators were shovelling sand into three large trucks.
When strangers are spotted, the miners warn each other by phone, immediately switch off the excavators' engines and flee with the trucks.
A local resident named Dat said these mines have been operating for three years, selling dozens of truckloads of sand every day to construction sites in Tri Ton District.
The owner of a construction site on Road 955B said he buys sand from two locals, one of them a former chairman of the Le Tri Commune People's Committee.
Local residents said the two men operate several illegal sand mines in the communes of Luong Phi and Le Tri and Ba Chuc Town and have 14 trucks to transport the sand around the district to sell.
Sand mining in Tinh Bien District
In Tinh Bien District too there is illegal sand mining, but it is less brazen than in Tri Ton, with the miners operating in the dead of night, finishing by early morning.
Local authorities said a man named Nam operates several sand mines in the district and has several trucks carrying sand from the foot of Cam Mountain (in An Hảo Commune) and Ngu Ho Son Mountain (in An Phu Commune).
The trucks include one with a false number plate, they said.
On October 27 Tuoi Tre found one of the trucks leaving Nha Ban Town at midnight, and heading to an illegal mine at the foot of Ngu Ho Son guarded by a sentry box. There were guards to warn strangers off while 10 men were shovelling sand into two trucks.
Nguyen Van Duong, secretary of the An Phu Commune Party Committee, said while local officials are waiting for licences to be issued by higher authorities to mine sand near Bay Nui Mountain, illegal miners are working at night.
"All sand mining at Ngu Ho Son is illegal. However, commune authorities find it hard to catch them red-handed because the sand is mined at night and the illegal miners keep close watch."
VNS