The Prime Minister has approved the National Target Programme for Climate Change Response and Green Growth for the 2016-2020 period.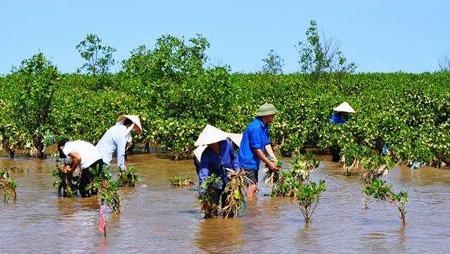 The programme aims to enhance the capacity of the whole country in responding to climate change and simultaneously implement measures to adapt to the negative impact of climate change and reduce greenhouse gas emission.
It also aims to strengthen the people's capacity to adapt to climate change and develop green growth towards a low carbon economy, whilst natural capital enrichment will become the mainstream with regards to sustainable economic development.
Accordingly, 30 transitional projects in Document No. 1443/TTg-QHQT dated September 19, 2012 by the PM and 42 projects on mangrove afforestation in the PM's Document No.78/TTg-QHQT dated on January 16, 2015, as well as a number of priority projects, are expected to be completed by 2020.
A number of urgent priority projects to deal with the impact of natural disasters in the context of climate change will be deployed in the Mekong Delta, the Central Highlands provinces, the coastal provinces and the mountainous Northern provinces.
According to the Global Risk Index 2017, Vietnam ranks among the top 10 countries affected by the impact of weather-related events. Since the 1970s, disasters have caused more than 500 deaths annually in Vietnam, and have cost more than 1.5% of the GDP in economic losses.
These costs could well rise to 3-5% of the GDP by 2030.
Nhan Dan